Oops! Kanye West Rants About Lenny Kravitz During MSG Concert -- Not Knowing He's In The Crowd!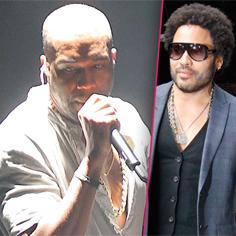 Lenny Kravitz probably wished he could fly away during Kanye West's concert at New York's Madison Square Garden Sunday, as the Yeezus rapper went on an extended diatribe about the rocker, not knowing he was in the crowd.
During the show, the self-aggrandizing West called himself a "modern day poet," and the "No. 1 rock star on the planet," before paying backhanded homage to the rocker.
"There wouldn't be no song called 'N****s in Paris' without Lenny Kravitz, because he was the first n**** in Paris," West said. "Lenny has the best taste and the dopest crib in Paris. He designs furniture and he had been working on a clothing line for a long time. I said, 'Wait a second, I've got a dream of doing a clothing line.'
Article continues below advertisement
"You know what the billionaires told me while I was in Paris? They said Lenny wanted the same thing, like it was a joke … there wouldn't be no Kanye West if it wasn't for Lenny Kravitz. The only difference is I turn up on those n****s, I don't give a bleep about looking cool or being cool, and this is no disrespect to Lenny."
In what might have been a touch of jealousy on West's part, he asked the crowd, "Have you heard anyone talk bleep about Lenny Kravitz?