Exclusive
George Zimmerman's Chilling Firearms Arsenal — Leaked Police Evidence Photos Reveal His Deadly Gun Stash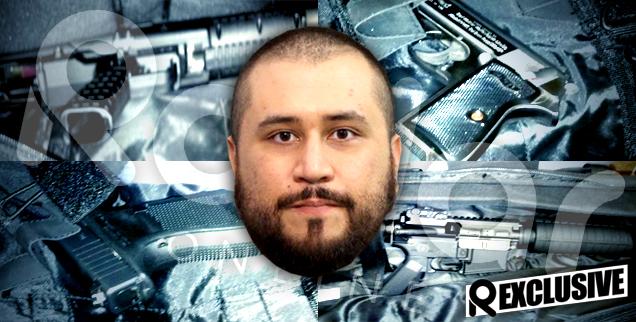 George Zimmerman won't be fighting for a paycheck as a celebrity boxer, but RadarOnline.com has learned that he could still be a very dangerous man.
During a domestic incident with his live-in girlfriend Samantha Scheibe, police uncovered a chilling arsenal of weapons and ammunition inside Zimmerman's home, the full extent of which has never been pictured -- until now.
According to police documents and new photos obtained by Radar, Zimmerman was found to be hiding the following deadly weapons inside his Florida home:
Article continues below advertisement
-One Keltec 12-gauge shotgun
-One Walther .380 handgun with seven rounds of live ammunition in the magazine
-One Taurus 9 mm handgun with live rounds in the magazine
-One Glock 19 handgun with 16 live rounds
-One AR-15 semi-automatic rifle
-Dozens of rounds of ammunition
-Several gun holsters and bags
Deputies seized the stash and categorized the items as evidence in a list that rivals the arsenals amassed by Sandy Hook shooter Adam Lanza and Aurora, Colorado, theater assassin James Holmes. Lanza massacred the 20 innocent children and six educators of Sandy Hook Elementary School in Newtown, Conn., 14 months ago. Holmes slaughtered 12 and injured 70 theater-goers in Aurora, Colo., on July 20, 2012.
All three mens' arsenals include a version of their shared top three deadliest guns: the assault rifle, the shotgun and the concealed carrier's trusted, Glock.
Zimmerman's two additional guns put him one gun ahead of Holmes and make him even with Lanza (who had five killing machines, counting the .22 rifle he used at his home to kill his mother).
Zimmerman's girlfriend, Scheibe, told cops that he had "grabbed his shotgun out of the case" when she began moving his belongings to their front porch.
Article continues below advertisement
When she told him she was calling the police, police documents claimed, "George Zimmerman then pointed the shotgun at her and asked, 'Do you really want to do that?'"
Zimmerman then "struck a glass top table in the living room using the butt of the shotgun, causing it to shatter" the records read.
Wearing the shotgun "over his shoulder using the sling," he allegedly "pushed her out of the house and locked the door behind her."