Exclusive
Pro Wrestler Chyna Wants To Fight George Zimmerman: There's No Greater Humiliation Than Having Your A** Kicked By A Woman!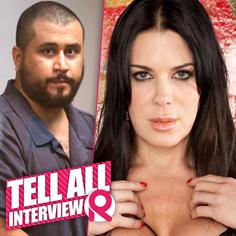 Article continues below advertisement
But Chyna is the first woman to throw her name in the mix.
"Mr. Zimmerman is not a celebrity and he is looking to enjoy the fringe benefits that come with fame. He has done a despicable act that does not need to be celebrated but to be pummeled," Chyna told RadarOnline.com.
"This is a personal matter to me due to the fact that I have many friends from other races and sexual orientations and I don't want them judged by the color of their skin or which sex they prefer. Scum is scum in any color to me."
The 43-year-old added, "Although jail is where Mr. Zimmerman should be, I can think of no other humiliation than for Mr. Zimmerman to have his ass kicked by a woman. I am issuing an open challenge to George Zimmerman to face me in a boxing match. Although me kicking his ass brings no measure of justice to Trayvon Martin's parents, hopefully they can take a small sense of satisfaction and glee in Mr. Zimmerman's defeat."
Article continues below advertisement
In fact, Chyna is so keen on taking a jab at Zimmerman, her rep Jackie Kallen tells us that she would immediately jump on a plane from Japan where she's currently teaching English to fly back to the US and begin training.
No word yet if Zimmerman is comfortable getting in the ring with a woman, but Feldman tells RadarOnline.com they're hoping to narrow the field down to nine celebrities shortly, before picking the one who will fight.
"It was my idea," Zimmerman exclusively told RadarOnline.com of the match.
"Prior to the incident I was actually going to the gym for weight loss and doing boxing-type training for weight loss and a mutual friend put me in contact with Damon and provided me with an opportunity and motivation to get back in shape and continue with my weight loss goals and also be able to help a charity out."
RadarOnline.com has exclusively learned that Floyd Mayweather Sr. has been confirmed as the referee for the match.
Who do you think is the best opponent for Zimmerman? Sound off in the comments below…