Exclusive
DMX, Michael Lohan & The Game Want To Fight George Zimmerman, Plus 5,000 Americans Who Want 'Justice For Trayvon'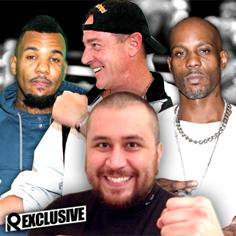 Article continues below advertisement
Either way, there will be no problem finding an opponent for Zimmerman, 30, because Feldman has also received nearly 5,000 emails from people all over America who want a chance to fight Trayvon Martin's shooter, stating they want "justice for Trayvon."
One such American contacted RadarOnline.com saying, "It would be my honor to get in the ring with him."
"I'm 46-years-old in the best shape of my life. I'm 6'2, 300 pounds and from Arkansas," Vincent Edwards told RadarOnline.com.
"Enough is enough, he killed that young man. I want to fight him not for what he did to Trayvon, it's because he's got a big mouth and I'm the man to shut it completely."
The event has garnered tons of publicity and public outcry, with campaigns on Twitter even asking heavyweight champ Mike Tyson to come out of retirement and box Zimmerman.
Zimmerman was acquitted of second-degree murder and manslaughter last year in Florida for the Feb. 26 killing of 17-year-old Trayvon.
Who would you like to see in the ring with Zimmerman? Sound off in comments below…