George Zimmerman Found Not Guilty In Shooting Death Of Trayvon Martin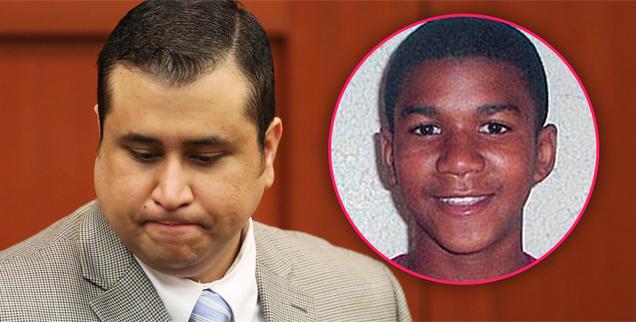 George Zimmerman was found not guilty on Saturday in connection with the fatal Feb. 2012 shooting of 17-year-old Trayvon Martin. He was acquitted on second-degree murder and manslaughter charges.
The six-member jury of all women delivered their verdict Saturday night before a packed courtroom, Judge Debra Nelson, and cameras broadcasting the case from Sanford, Florida to millions of viewers worldwide.
Article continues below advertisement
As we previously reported, the killing took place February 26, 2012, and gained national notoriety -- including reactions from President Barack Obama and the NBA champion Miami Heat -- after authorities took 44 days to charge Zimmerman, a neighborhood watchman, in the killing of the unarmed black teenager.
With the racially-charged controversy in the community heating up to a fever pitch, Zimmerman was charged with second-degree murder on April 11, 2012, causing a swell of reaction from those on both sides of the public opinion spectrum. A judge ruled last week that the jury could also consider convicting Zimmerman of manslaughter.
The jury deliberated 16 hours and 20 minutes over the past two days.
Zimmerman claimed he shot Martin in self-defense and that the teenager had knocked him down, slammed his head onto the sidewalk and punched him. The neighborhood watch captain called police because he thought Martin was acting suspiciously. There had been several break-ins in Zimmerman's neighborhood.
Zimmerman got out of his vehicle and followed Martin after spotting him and calling police, even though the emergency operator discouraged him from pursuing.
Article continues below advertisement
The jury had been sequestered since June 24. It became clear earlier Saturday that conviction on a second-degree murder charge was unlikely when jurors asked for clarification on instructions for the manslaughter option.
Zimmerman showed little reaction in court when the verdict was announced.
Tracy Martin, Trayvon's father, tweeted several messages Saturday night, including one that read: "Thanks to everyone who are with us and who will be with us."
The prosecution's case lacked an eyewitness who clearly saw the fight between Martin and Zimmerman, leaving experts on both sides arguing about what happened. Cries on the police tape sparked conflicting testimony about whether they were from Martin or Zimmerman.
Zimmerman had a concealed weapons permit and killed Martin with a single shot from a 9 mm handgun. A defense expert testified that forensic evidence indicated Martin was on top of Zimmerman when shot, because his clothing was hanging away from his body, as evidenced by the fatal wound.
Police in several Florida cities were preparing earlier Saturday for violence in reaction to the verdict.
The trial began last month to round-the-clock coverage, with its' fair share of dramatic moments captivating the country's attention.
Stay with RadarOnline.com for more info on the blowback from the verdict.