I Saw A Body In The Grass, Face Down: Witness Describes Killing Of Trayvon Martin, Photos Of Dead Body Shown In Court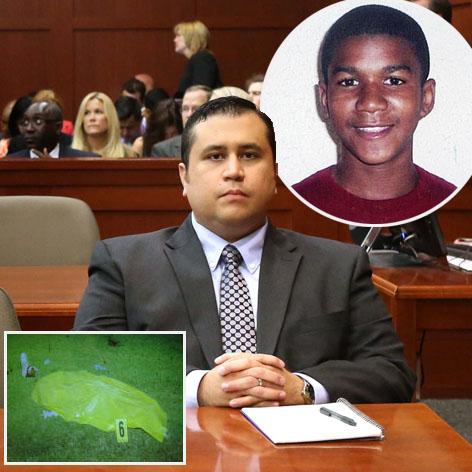 The killing of Trayvon Martin was described in dramatic testimony and photos of the 17-year-old's dead body were shown in court during a tense day in the second-degree murder trial of George Zimmerman.
Zimmerman, 29, shot and killed the teen on Feb. 26, 2012 after calling police and reporting him as a suspicious person in a neighborhood plagued by break-ins.
The horror of that night was clearly illuminated in Seminole County Court on Tuesday when phtographs of Trayvon's lifeless body were shown to the six jurors. The teen's father, Tracy Martin, left the court room before the photos were displayed.
Article continues below advertisement
One picture showed the bullet hole in Martin's chest in a close-up view.
Selene Bahadoor, a neighbor, described hearing noises and looking out her sliding glass door on the night of the shooting. She thought she heard running and then saw two people standing.
It was dark and she could not identify the figures but saw "figures and arms flailing."
After a short amount of time she heard a gunshot and when she looked outside again her view was of death, a "body in the grass," she told the court, "I remember it being face down."
Zimmerman's attorney Mark O'Mara tried to discredit her late in the day, asking if she signed a petition on change.org asking for the prosecution of "the killer of our son Travyon Martin." Bahadoor seemed confused at first, and had earlier admitted to "liking" a "Justice for Trayvon" Facebook page. The day concluded without a clear answer about the petition.
O'Mara tried to point out discrepancies in Bahadoor's testimony and what she told Sanford, Florida police about the figures running on the night of the killing.
Article continues below advertisement
Sanford police Sgt. Anthony Raimondo testified early Tuesday about performing CPR on Martin. "I breathed for Mr. Martin," he said. He was one of the first officers on the scene and described seeing Zimmerman handcuffed.
Diana Smith, a crime scene technician, showed evidence she collected from the scene, including Skittles and an Arizona tea soft drink, which were purchased by Trayvon at 7-11 shortly before his fatal encounter with Zimmerman.
Smith did not see blood on the sidewalk where the defendant says his head was bashed by Martin.
Earlier testimony established there were several burglaries in the neighborhood and that the idea to start a neighborhood watch program came from Zimmerman and not the Homeowner's Association.
Judge Debra Nelson did not rule on an issue that was left unresolved Monday. Prosecutors want to play other calls Zimmerman made to police reporting suspicious people in the neighborhood while the defense is trying to keep those calls out.