Trayvon Martin Killing: Prosecutor Curses In Dramatic Trial Opening, Police Dispatcher Admits George Zimmerman Followed Teen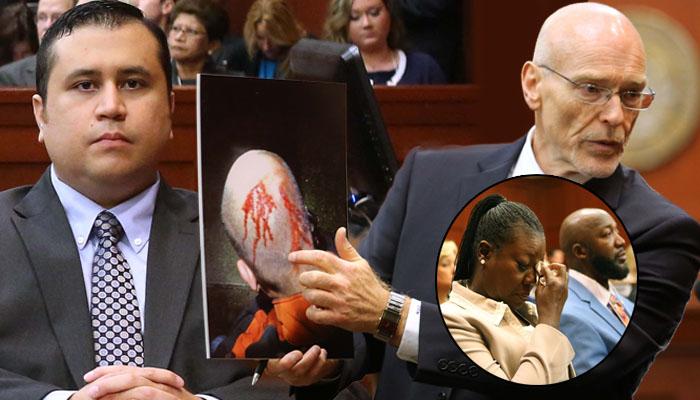 George Zimmerman was following Trayvon Martin the night he shot and killed the teenager, a police dispatcher who took Zimmerman's call testified Monday as the first witnesses were called in the racially-charged second-degree murder trial.
Sean Noffke, a 911 operator for the Seminole County Sheriff's Office, was repeatedly led through portions of Zimmerman's call by both the prosecution and defense. He admitted he did not order Zimmerman to stop following Martin per his department's protocol.
Article continues below advertisement
For liability reasons dispatchers issue "not commands but just suggestions," Noffke testified. But he testified that he asked Zimmerman if he was following Martin and Zimmerman admitted he was.
Zimmerman's call to police – classified as non-emergency – was the hotly debated center of Monday's proceedings.
Prosecutor John Guy started his opening statement with these dramatic words: "F***ing punks. These a**holes always get away with it."
He was quoting Zimmerman from the police tape. And although Guy quickly apologized to the jury for using profanity he immediately added: "Those were the words in that grown man's mouth."
Guy then hammered the theme of Zimmerman armed, carrying two flashlights and chasing down an unarmed Martin in Sanford, FL.
It was an effective beginning for prosecutors but the defense countered by leading Noffke through Zimmerman's call piece by piece and getting the dispatcher to admit that the defendant did not sound angry at any point.
Article continues below advertisement
"Now he's staring at me," Zimmerman was heard saying about 17-year-old Martin at one point. And then: "Now he's coming toward me. He's got his hand in his waistband. He's a black male. Something's wrong with him. He's coming to check me out. He's got something in his hands. I don't know what his deal is."
Defense attorney Mark O'Mara asked if Noffke detected anger in Zimmerman's voice. "It sounded calm to me," the dispatcher answered.
O'Mara guided him through the call, getting Noffke to admit he was not concerned at any juncture.
"Did this call rise to a level of concern where you thought you need to keep Mr. Zimmerman on the call," the defense attorney asked.
"No," Noffke answered. "There was no concern for his safety." And Noffke testified he asked Zimmerman for updates on what Martin was doing "in case (Martin) approached him further and started an altercation."
Article continues below advertisement
Defense attorney Don West was not as dramatic or effective in his opening statement but tried to make the simple point, "There are no monsters here."
Zimmerman, 29, shot and killed Martin on Feb. 26, 2012. Martin was on his way home from 7-11 and was wearing a black hoodie. Prosecutors claim Zimmerman racially profiled the black teen, leading to his death.
Zimmerman claims he shot Martin in self-defense after Martin confronted him and wrestled him to the ground.
Before Noffke – one of four witnesses called Monday -- took the stand, Martin was shown on surveillance video, with his hoodie up, buying items at the nearby 7-11. Andrew Gaugh, the convenience store clerk who helped Martin, testified there was nothing unusual about the teenager or the transaction.
The police call was the center of the day's attention. Prosecutors easily established that Zimmerman followed the teenager, a fact they will certainly build on as the trial progresses and they attempted to prove Martin would be alive today if Zimmerman had simply waited for the police to arrive.
Article continues below advertisement
When prosecutors played a previous Zimmerman call to police about burglaries in the neighborhood, the defense objected, the jury was sent out of the room and the judge heard arguments from both sides before ending the day's action. The defense wants prior calls to the police not admitted into evidence, claiming they are being used as "prior bad acts."
The state counters that these calls are relevant to Zimmerman's state of mind the night he killed Martin, particularly when he says, "these a**holes always get away with it."
Judge Debra Nelson asked both sides if they had any case law to support their arguments before recessing for the day and telling the lawyers to do their research overnight.
Six female jurors will determine Zimmerman's fate. They are sequestered and there are four alternates.
Four witnesses were called Monday.
Zimmerman faces life in prison if convicted of second-degree murder.