George Zimmerman 'Punched My Dad In The Nose…He's Threatening Us With His Firearm,' His Wife Tells Operator -- Hear The Dramatic 911 Call!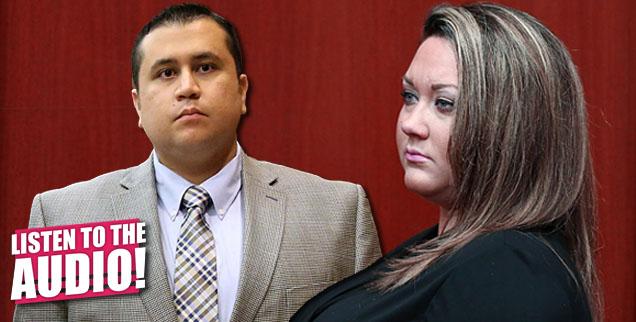 Article continues below advertisement
"He's trying to shut the garage door on me," Shellie tells the operator after being reconnected after her cell phone died.
"Is he inside now?" the operator asks.
"No, he's in his car and he continually has his hand on his gun and he keeps saying, 'Step closer,' he's just threatening all of us with his firearm."
"Step closer and what?" the responder asks.
"And he's gonna shoot us," Shellie says. "He punched my dad in the nose. My dad has a mark on his face. I saw his glasses were on the floor. He accosted my father and then took my iPad out of my hands and then smashed it and cut it with a pocketknife."
Shellie tells the operator that there may be a witness that saw it all go down, as she waits for police to arrive at the home.
"I'm really, really afraid," Shellie says.
"I don't know what he's capable of. I'm really, really scared."
LISTEN TO THE 911 CALL:
https://media.radaronline.com/brand-img/wp-content/0x0/2013/09/zimmerman911sep09.mp3
Police finally arrive and Shellie tells the operator, "They're telling his bodyguard to get out of the way."
Article continues below advertisement
She then yells at her father, "Dad, get behind the car or something, I don't know if he'll start shooting at us or not. Dad, get inside the house!"
At the urging of the operator, Shellie and her father then go inside the home.
"He's got his hands in the air, he's not touching his weapon," Shellie says.
The operator asks if her father needs medical and he says no, but Shellie requests an ambulance to come and check him out anyways.
Shellie begins to cry uncontrollably and the operator calms her.
As RadarOnline.com previously reported, Zimmerman was taken into custody after the dispute with Shellie and his father-in-law, but no charges have been filed yet.
Just last week news broke that Zimmerman's wife would be filing for divorce from him following his acquittal in the controversial killing of teenager Trayvon Martin.