George Zimmerman's Wife Files For Divorce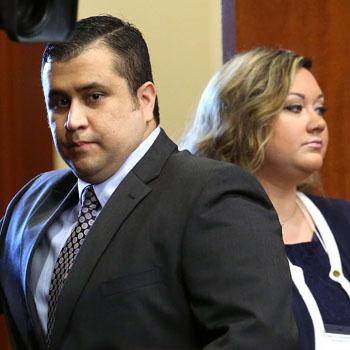 So much for stand by your man. George Zimmerman's embattled wife Shellie has filed for divorce, ABC News is reporting.
According to the report, Shellie filed the paperwork to make the split official soon after admitting to ABC's Christi O'Connor that she felt "very much alone" in her marriage and was "going to have to think about" whether she stayed married to George.
The couple has struggled under the pressure of international attention, after George shot and killed Florida teen Trayvon Martin in a case that stirred up racial tensions around the globe.
Article continues below advertisement
Facing death threats, the couple went into hiding and even chose to live with security guards. "I think we have been pretty much like gypsies …" Shelly revealed in the ABC interview. "We've lived in a 20-foot trailer in the woods, scared every night that someone was going to find us and that we'd be out in the woods alone and that it would be horrific."
George was acquitted on second-degree murder and manslaughter charges on July 13.
MORE ON:
Celebrity Justice
In addition to her husband's legal problems, Shellie had to deal with the courts in her own perjury case. She pleaded guilty last month to perjury for lying about the Zimmermans' finances when a judge was setting bail. She will serve 100 hours of community service and one year of probation.
On Tuesday, George was stopped for speeding in Lake Mary, Florida, and issued a $256 ticket for going 60mph in a 45-mph zone.