Exclusive
Trayvon Martin's Family Calling For Investigation Into Alleged Cover-Up or Conspiracy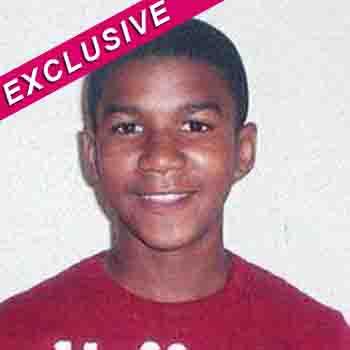 Article continues below advertisement
As previously reported, Martin, 17, was killed by the neighborhood watch vigilante as he was walking through a gated community, carrying candy and iced tea. Zimmerman shot the unarmed teen, claiming it was in self defense. Video of Zimmerman filmed after his arrest showing no blood or injuries on his face seemingly contradicts his claims that Martin was the aggressor and broke his nose.
On Monday, one of attorneys for Martin's family, Benjamin Crump, sent a letter to the United States Justice Department asking for an investigation to be conducted to determine if Wolfinger went to the Sanford Police Department and met with Chief Bill Lee to discuss the shooting of Trayvon Martin. The letter also claims that Zimmerman's parents, his father is a retired judge, were also at the police station. Wolfinger vehemently denies the meeting ever took place and is now calling Benjamin Crump a liar.
The prosecutor says in a written statement that he is, "outraged by the outright lies contained in the letter by Benjamin Crump. There is a lot of irresponsible rhetoric going around and he said that should stop because it is only going to compromise the investigation."
Despite the denial, Jackson tells RadarOnline.com exclusively, "the Justice Department should absolutely conduct an investigation to determine if the meeting took place. Was there a cover-up or a conspiracy going on? If the meeting didn't happen then we can move on, but that family deserves to know what went on in the hours after their son was shot and killed by George Zimmerman. Remember, one of the detectives investigating the shooting wanted to arrest George Zimmerman because he didn't believe his story."
Article continues below advertisement
Meanwhile, the family remains "hopeful that George Zimmerman will be arrested and charged with shooting Trayvon. The family would like to see Zimmerman charged with second degree murder or involuntary manslaughter of a child, class three felony, which carries a life sentence in Florida. The Special Prosecutor Angela Corey, and the two prosecutors she appointed have met with Trayvon's parents. We have been asked not to elaborate on the details of meetings and conversations, but Trayvon's parents are cautiously optomistic that justice for Trayvon is imminent," Jackson tells RadarOnline.com.