Exclusive
Trayvon Martin's Girlfriend Was Hospitalized After His Wake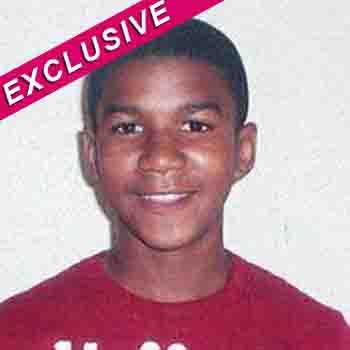 Article continues below advertisement
The day after Trayvon's wake, his girlfriend, who is a minor so RadarOnline.com won't be disclosing her identity, was emotionally distraught upon learning she was the last person who talked to him.
"The day after his wake, Trayvon's family attorney, Benjamin Crump, who had been conducting his own extensive investigation because cops had determined the shooting was in self defense, told Trayvon's girlfriend she was the last person to talk to him," a source close to the situation tells RadarOnline.com. "George had reviewed Trayvon's cell phone bill and it was revealed that she was on the phone with him in the moments before Trayvan was shot.
"His girlfriend became absolutely inconsolable and had trouble breathing so her mother took her to a nearby hospital emergency room. She had never seen her daughter this upset before, ever. She had a battery of tests, including an EKG, and was there for over 12 hours. Doctors ultimately told her that she was going to be ok, but advised her mother to keep a close eye on her and try to minimize the stress around her."
Article continues below advertisement
The Florida State Attorney's Office has issued a subpoena for Trayvon's girlfriend to appear in front of the grand jury when it's impaneled on April 10. She has hired a lawyer to advise her and make sure that her rights are protected. Her attorney has told prosecutors that she is ready to appear and is looking forward to telling the grand jury what really happened on February 26. Special Prosecutor Angela Corey has instructed the two prosecutors she has appointed to the case to interview Trayvon's girlfriend as well.
"Trayvon's girlfriend just wants justice, period. She was extremely fearful of the Sanford Police Department and was scared of retaliation for cooperating with the investigators," the insider says. "Her mother is very protective of her and will make sure she is safe. It's tragic that this teenager's life has now been changed forever, and the innocence of her youth is essentially gone."
RELATED STORIES: