Trayvon Martin Shooter George Zimmerman Had No Blood Or Bruising In Police Video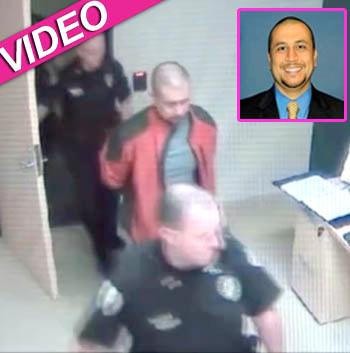 By Jen Heger - Radar Assistant Managing Editor
Police surveillance video taken the night that George Zimmerman shot and killed Trayvon Martin, reveals that he didn't have any blood or bruising despite the neighborhood watch captain telling cops that the 17-year-old had punched him in the nose and slammed his head into the ground, RadarOnline.com is reporting.
As previously reported, Martin, 17, was killed by Zimmerman as he was walking through a gated community, carrying candy and iced tea. The vigilante claimed he killed the unarmed African American teen in self defense.
Article continues below advertisement
The police surveillance video, obtained by ABC News, shows Zimmerman exiting the police cruiser in handcuffs, after being released from a nearby hospital. One of the police officers looked at the back of his head, but there is no visible evidence of any cuts, bruises or blood on his head, or around his nose.
Zimmerman's attorney, Craig Sonner has been claiming that his client was returning to his vehicle when Trayvon allegedly attacked him and that he suffered a broken nose, and had to shoot the teenager in self defense.