Trayvon Martin Gun Range Shooting Targets Go On Sale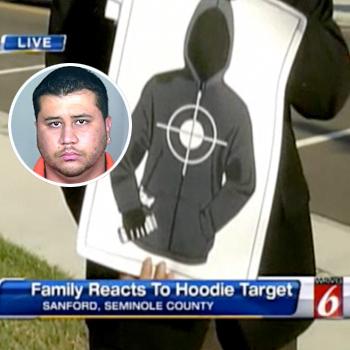 An online retailer has been selling shooting targets designed to look like Trayvon Martin.
The outrageous target shows a faceless person in a hoodie, with crosshairs across the chest and a packet of Skittles candy in his hand, Orlando's WKMG is reporting.
According to an ad for the targets that had been posted on a popular firearms website, the sellers stated they "support Zimmerman and believe he is innocent and that he shot a thug."
Article continues below advertisement
As RadarOnline.com has been reporting, neighborhood watch volunteer George Zimmerman has been charged with second degree murder in the shooting death of Trayvon Martin. He has pleaded not guilty and is out on $150,000 bond.
In an email exchange with WKMG reporter Mike DeForest, the seller wrote, "My main motivation was to make money off the controversy. He also said the response to his ad had been "overwhelming. I sold out in 2 days."
Zimmerman is in no way connected to the sale of the targets. "This is the highest level of disgust and the lowest level of civility," his attorney Mark O'Mara told WKMG.
Natalie Jackson, the Martin family attorney added, "It's a sad certain segment of our society that would think you could make a profit off the killing of a teenage boy."
RELATED STORIES:
George Zimmerman Raised $204k From Online Donations, Prosecutors Seeking Higher Bond