George Zimmerman Released Overnight On $150,000 Bail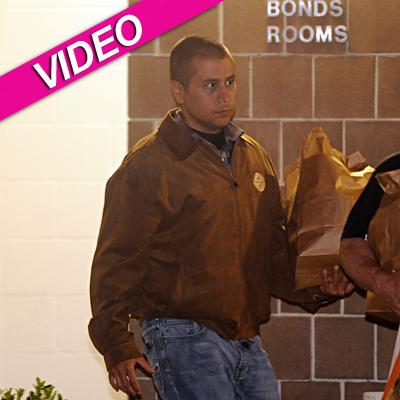 George Zimmerman, the neighborhood watch volunteer accused of second-degree murder in the February 26 shooting death of 17-year-old Trayvon Martin, was released on $150,000 bail from a Florida jail at midnight Monday.
Zimmerman exited the jail in a quiet scene, boarding a white BMW headed to an undisclosed location. As conditions of his bail, the 28-year-old -- who handed in his passport -- must follow a 7 p.m.-to-6 a.m. curfew, cannot possess any firearms and must wear an electronic device.
Article continues below advertisement
In his bail hearing last Friday, prosecutors requested $1 million bail, but the judge set the amount to $150,000; Zimmerman had to post 10 percent of that amount ($15,000) prior to his release Monday.
In related news, Martin's parents Sybrina Fulton and Tracy Martin took out space in Sunday's Miami Herald to post a letter thanking the community for their outreach and support since their son's death.
"Words will never express how your love, support and prayers lifted our spirits and continue to give us the strength to march on," they wrote.
If convicted, Zimmerman could face up to life in prison. The case has caused national controversy, as Zimmerman was not arrested for 44 days following the shooting.
Stay with RadarOnline.com for more on this story.
Watch video of Zimmerman's release below:
RELATED STORIES: