Exclusive
Mommy Knows Best? Farrah Abraham Says She'll Let Daughter Sophia Get Plastic Surgery: 'Go For It!'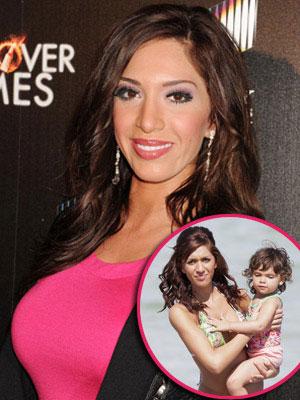 Farrah Abraham's daughter Sophia could be following in her footsteps -- all the way to the plastic surgeon's office. The Teen Mom turned porn star tells RadarOnline.com exclusively that she's open to the idea of letting her daughter -- who's now only four -- eventually go under the knife.
"I have to say, we very much believe that we are pretty," Abraham reveals. "We are secure people. But if there's something that she can't live with, then yes go for it!" But she does have one stipulation.
Article continues below advertisement
"Like myself, I waited till I was 18," Abraham explains. "If she would like to do that, she's her own adult. And … if it's for a real reason."
That said, Abraham isn't expecting to see her daughter make that choice. She tells RadarOnline.com, "I'm supportive, but I don't think in any way shape or form she will need that. She's a very adorable, good looking, great kid."
Abraham, on the other hand, has admitted that she wanted to drastically change her looks before getting breast augmentations, rhinoplasty, chin implants, and lip injections over the past few years.
"I envisioned myself looking one way and I changed it," Abraham says. "And I'm still happy and I don't b***h about my looks anymore."
In fact, she says she won't be getting any more nips and tucks for quite a while.
"I feel like if I am preventing aging, yes, and there's always little things that I can do," she says. "But at this time right now, my esthetician and my doctors don't recommend that, so I'm not going to."
Instead, she's working cultivating a happy, healthy look from the inside out.
"I've honestly just been on a very strict, healthy diet — and I think that's why I've been feeling healthy and happy and just doing my best," she explains. "I've totally switched up my diet and I've been juicing, straight up raw veggie juicing and fruit juicing."
"It's been pretty intense for my body," Abraham concludes. "But I have to say, I've been glowing. My skin is good. I just feel good."