Rihanna Or Bust! Chris Brown Dumps GF Karrueche Tran After Rekindling Flirtation With His Ex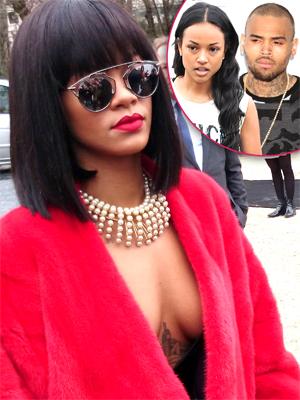 Article continues below advertisement
But Tran seems to be handling the reported split fine. On Thursday afternoon, she tweeted several sexy shots of herself in sheer lingerie. Friday night, she was spotted partying at the OK! magazine pre-Oscar party on the arm of close friend J. Ryan.
And on Friday, she seemed zen about the whole thing, posting a quote on her Instagram that read, "Flow with whatever may happen and let your mind be free: Stay centered by accepting whatever you are doing. This is the ultimate."
Meanwhile, thousands of miles away, Rihanna was flaunting her single status as she partied in a sheer top at the Balmain after-party at notorious Parisian strip club Crazy Horse.
She's also been spotted spending time with rapper Drake in the French capitol.
Rihanna has said that she and Brown "love each other and probably always will," despite the fact of his 2009 assault on her.
Do you think they should give it another try or was he better off with Tran?