50 Shades Of Sick! Outrage Over New Chris Brown & Rihanna Fan Fiction Novel Glorifying Abusive Relationship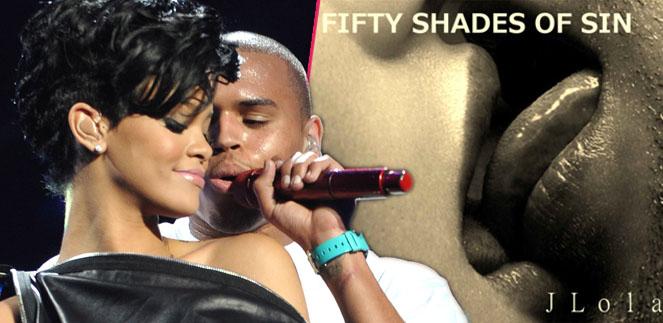 If anything, most would say, Chris Brown and Rihanna's destructive relationship should be a cautionary tale. But now, an anonymous author has stunned the world by spinning their tale of violence and bloodshed into 50 Shades of Grey fan fiction!
50 Shades of Sin, by "J. Lola," is "the strange story of pop stars Robyn Rihanna's real name and Chris, and how they find love in a HOPELESS PLACE," the author writes on Amazon.com. "From the moment they meet, their attraction is explosive. They fall hard for each other. They crave each other every minute of the day. However, they just can't be together. This is a story about love, but it explores the difficulties, sacrifices, and pain that love brings as well."
Article continues below advertisement
Leaving little doubt as to the characters' real-life counterparts, the author references Chris' "groupie" Asian girlfriend (who sounds a lot like Karrueche Tran), and Robyn's best friend "Melissa" (seemingly a shout-out to real-life BFF Melissa Forde). But the character Chris' dark side and domination of Robyn, instead of being a troubling sign of problems to come, is recast as a desirable, even sexy, trait.
"I was hesitant to date him," Robyn says at one point in the book. "I wasn't sure why, but I felt as if meeting him would open up a box that I wasn't sure I was ready to open. Thinking back, I realize that there was a part of me blasting out a warning to stay away from Chris then. Even before I met him."
And when Robyn does meet him, there are even more red flags. At one of their first meetings, Chris threatens to break the hand of a bystander who gets in the way of their budding romance. Instead of being concerned, Robyn says, "I tried to imagine how glorious his muscular 6'4" frame would look naked."
Article continues below advertisement
"I did a double take," she says, "utterly ashamed that I was so attracted to this man that I could find such a dangerous situation erotic."
Aware that Chris was fighting "demons," she nevertheless pursues the relationship, even after he threatens to "beat the sh*t out of" her current squeeze.
After they have sex for the first time, Chris gives Robyn one more chance to get out of their relationship. "I'm f*cked up," he warns her. "Really f*cked up."
She answers, "I'm f*cked up too. Let's be f*cked up together …"
The first in a series of planned books about Chris and Robyn, 50 Shades of Sin ends with a promise that fans can "Follow more of Robyn and Chris' story, all the way down to what happened that sad night of the Grammys," when the real-life Brown viciously assaulted his girlfriend.
Internet commenters have been quick to slam the book. When it was featured on CrazyDaysAndNights.net, User Freya wrote, "Ridiculous! Profiting off someone else's pain." RachAround chimed in, "Ew. Just f*cking ew. I just threw up in my mouth."
On Twitter, user @Cuke11 wrote about the book, "I have no hope left for the human race."
What do you think of the book? Let us know in the comments!