Exclusive
The Original Sin: Never-Before-Released Letter To Judge Exposes Charlie Sheen's Intense Love Affair With Porn Star Ginger Lynn — The 'One True Love' Of His Troubled Life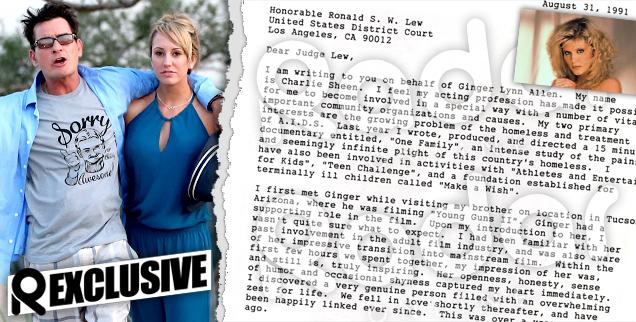 Article continues below advertisement
He detailed how she "captured my heart" within moments of the pair meeting and how they "fell in love shortly thereafter."
"I first met Ginger while visiting my brother on location in Tuscon, Arizona, where he was filming Young Guns II," Sheen wrote on Aug. 31, 1991, a month after his hit comedy spoof Hot Shots! was released.
"Upon my introduction to her, I wasn't quite sure what to expect. I had been familiar with her past involvement in the adult film industry and was also aware of her impressive transition into mainstream film.
"Within the first few hours we spent together, my impression of her was and still is, truly inspiring. Her openness, honesty, sense of humor and occasional shyness captured my heart immediately. I discovered a very genuine person filled with an overwhelming zest for life. We feel in love shortly thereafter and have been happily linked ever since. This was over a year and a half ago.
"Ginger is, in my opinion, one of the finest people I've ever known. Her sense of loyalty and compassion far exceed the limits which we normally see established by self-interest.
Article continues below advertisement
"She has a powerful sense of integrity, a strong internally defined morality and is, at times, generous to a fault."
He added, "Over the past six years, her progress in overcoming obstacles some might label 'insurmountable' has been quite unique. She has taken some major risks in her career and has suffered rejection by some because of these. Yet she has worked hard and kept faith in herself and has survived the risks to establish a promising career as an actress."
Article continues below advertisement
"On August 6, 1990, I entered a local treatment center to finally put to rest the demons of alcohol and drugs that were trying to end my life," the eventual star of Two and a Half Men and Anger Management revealed.
"During those thirty-two days, Ginger was there for me every step of the way. Her presence both physically and emotionally proved to be one of the major reasons I was successful in that most turbulent journey.
Article continues below advertisement
"Ginger decided to join me on the path to sobriety and to this day we've yet to set foot off the path. I am forever thankful to Ginger in her efforts to test her own will as well as mine. It is in moments such as these when the definition of 'friend' is truly realized."
Sheen's dad, veteran actor Martin, also wrote a telling letter to the judge in support of Lynn.
"Miss Allen is a dear friend and I am proud to be able to write in her support," the star of Badlands and Apocalypse Now wrote.
"I have known Miss Allen for slightly more than a year. During that time I have been witness to some very extraordinary events which she has caused to happen in her life. Chief among these is her remarkable recovery from drug addiction through committed involvement in the Cocaine Anonymous program. Subsequently, the depth of this miraculous transformation has been manifested in the form of her dedication as a volunteer for 'Children of the Night' in Los Angeles.
Article continues below advertisement
"As your honor may know, this is a local organization that has worked for more than a decade to rescue runaways, street kids, from lives of prostitution, drug addiction and other forms of exploitation and self-destruction."
Writing before her sentencing on Sept. 16, 1991, Martin said Lynn had "already inflicted perhaps the most severe form of punishment in her own mind and heart."
He noted, "She has worked diligently to change the direction of her past to gain respect in mainstream films. Having a felony on her record is a heavy burden for her to bear.