Exclusive
Charlie Sheen WILL Get Prenup Before Getting Married For The Fourth Time To Porn Star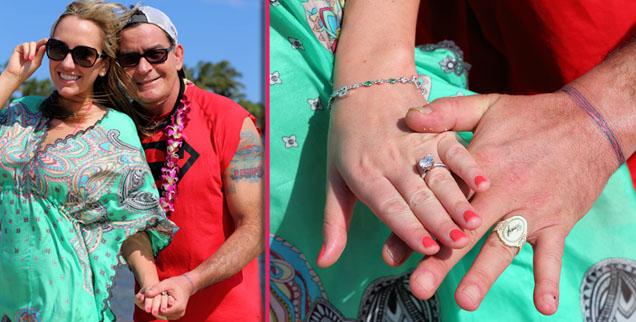 Charlie Sheen will be having a prenup drawn up before taking his trip down the aisle to porn star Brett Rossi, RadarOnline.com is exclusively reporting.
The Anger Management proposed to Rossi in Hawaii on Valentine's Day and "will absolutely be getting a prenup, just in case," a well-placed source tells us.
Charlie's fortune is estimated to be around $125 million largely because of royalties he receives from Two and a Half Men.
Article continues below advertisement
Once his current FX Show, Anger Management, goes into syndication, he will be earning even more money. The prenup will be very generous for Brett, but Charlie has to protect his finances even though he doesn't think the agreement will be needed, because he believes Brett is his soul mate," a source told RadarOnline.com.
The Sheen financial empire is extremely lucrative. While Sheen was on Two and a Half Men, he earned $1.25 million per episode. According to his prenup with Brooke Mueller, Sheen receives 12% of adjusted gross income from the CBS hit show which was estimated to be worth $75 million. The rehabbing socialite waived her right to any claim of those earnings.
Sources tell us, "Charlie will be a little more generous with Brett in regards to the prenup, than he was with Brooke."
Mueller was given a $500,000 marriage signing bonus, 300,000 for each year they were married, was given a one-time cash payout of $2.35 million for her share in Sheen's Beverly Hills mansion, and $100,000 in relocation fees. She waived her right to spousal support, but had been receiving $55,000 in child support until Brooke lost custody of the twins last year.
Article continues below advertisement
In total, the former reality starlet walked away from her marriage to Charlie, after less than three years, with $3.5 million.
Just before Christmas, Sheen bought Brett a brand new Mercedes! Rossi also has access to Charlie's credit cards.
Despite the best efforts of his advisors at the time to talk him into it, Sheen refused to have a prenup with second wife, Denise Richards, because "there wasn't any need at that time because he just didn't have a lot of money. The Two and a Half Men money came after the marriage ended," the insider tells us.
Sheen does pay Denise $55,000 in child support for their daughters, Sam and Lola.
It's likely Charlie will "pay for Brett's legal fees as they work out the details of the prenup. For him, this is only a formality. He doesn't think Brett is after his money. This time, it's different," the insider adds.