Amber Portwood A Changed Woman? 'Teen Mom' Star Reunites With Ex-Boyfriend Gary Shirley & Daughter For Disney On Ice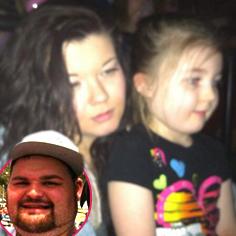 Article continues below advertisement
"Disney on ice with Amber & @leah_leann. Doing it for Leah," he wrote.
Shirley has been vocal about his fragile relationship with his ex and shattered any hope that 2014 will be the year Portwood regains custody of their daughter.
"It's going to stay the way it is, to protect Leah," Shirley said in an interview with OK! Magazine last month.
Shirley won full custody of the tot in December 2011, amid Portwood's struggles with drug addiction and anger management. And though he has forgiven her for how she treated him during that difficult time, he hasn't forgotten.
And slowly, he says, the formerly tumultuous Teen Mom is learning how to be a good parent. "I feel like she has her daughter in mind more," Shirley admits.
"But I thinks he's still adjusting to being out of prison. She needs to accept Leah at the age she is, versus the age she was when Amber went away."