They Tried To Make Her Go To Rehab, But Snooki Said No, No, No: MTV Star Admits Fiance 'Mentioned Rehab' Following Blackout Drinking Binge AFTER Her Son Was Born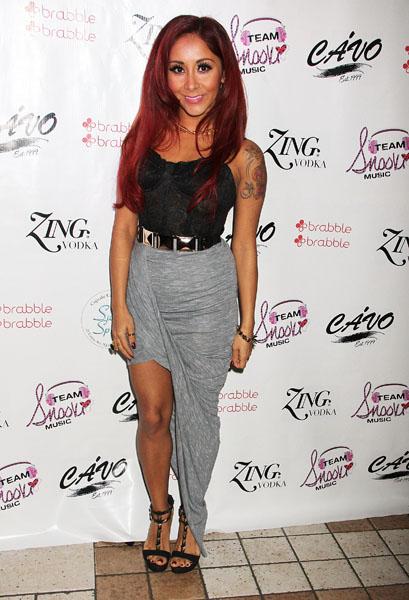 Article continues below advertisement
"About a month after Lorenzo was born, I went on a girls' night out …" the Jersey Shore star writes. "In the limo to the club, we popped open a bottle of Champagne and had more vodka … I was drunk before we hit the highway."
At the club, she says, "After champagne we switched to sake bombs … Four different kinds of alcohol were pushed through my pregnancy-scrubbed liver. I got twisted. After being a saint for ten months, I had no idea what my tolerance level was anymore. I blacked out, and only found out what happened the next day."
"Apparently, I managed to pack a lot of trouble into just a few hours," Polizzi admits, "giving all the girls a lap dance, making out with, er, everyone … I knew it had been filmed and that Jionni would find out the truth. I had to tell him what happened, but I didn't have the mental focus or strong stomach to say it to his face."
So, she says, she texted him about her wild night while they were sitting next to each other on the couch.
Article continues below advertisement
Upon reading the text, which read "I blacked out last night and made out with Snooki & JWoww co-star Jenni Farley," Snooki says "He scooped up Lorenzo and said, 'Stay away from me.'"
Seconds later, Polizzi claims, Lavalle texted her back, writing, "You're a coward and a horrible mother and fiancée."
He stormed into the room, she says, and said, "Pack your bags and get out."
She admits, "Jionni had also mentioned something about rehab."
"Hysterical, I took a drive around the block and called Jenni," Polizzi writes. "She was on my side, of course … Jenni said, 'Jionni chose to be with you; he chose to get you pregnant; he chose to propose to you. He has to choose to be with the real you. You don't need rehab. You just need a break."
Polizzi says after a long heart-to-heart she and Lavalle got over their issues, but she insists, "I vowed then and there that I'd stop drinking. I didn't ever want to fight like that with Jionni again. It was f***ing scary."
Baby Bumps: From Party Girl to Proud Mama and All the Milestones Along The Way is on stands now.