Exclusive
EXCLUSIVE PHOTOS: Underage Snooki Guzzling Beer Before Drunk Pal Died Leaving Her Party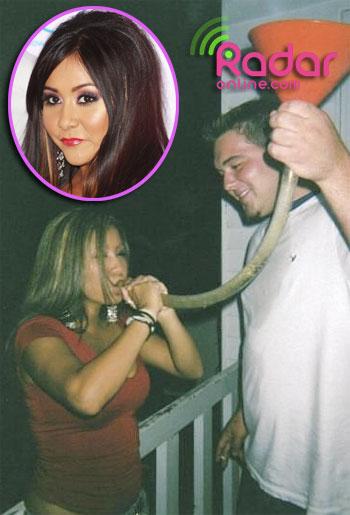 The glorification of binge drinking has drenched MTV's Jersey Shore in controversy, and now RadarOnline.com has obtained exclusive photos that show an underage Snooki drinking heavily.
In these never-before-seen pictures, Snooki is seen guzzling a beer bong and also shown playing the drinking game beer pong -- all while well under the legal drinking age.
Even worse, one of the photos was taken after a pal died in a drunken crash after consuming alcohol at a party at Snooki's house -- a situation that led to the diminutive star being criminally charged for selling booze to minors.
Article continues below advertisement
RadarOnline.com broke that story early last year, but Snooki reignited the controversy over excessive boozing with her appearance this week on Ellen DeGeneres' show, where she happily related tales of blackouts and other drunken nights.
Long before cable TV turned her into a household name, Snooki was drinking excessively, a friend told RadarOnline.com exclusively.
"She's always tried to get as drunk as possible before she left for the clubs because she was underage and knew when she got there she couldn't drink," the close pal told RadarOnline.com.
"She was always fall down drunk. She would tilt her head back with her eyes half closed and latch on to random people to hold herself up because she was about to fall over."
In our exclusive photos, Snooki can be seen playing beer pong and chugging alcohol out of beer bong. The party equipment looks a tad smaller then the massive bong she guzzled from just before Seaside Heights PD arrested her for disorderly conduct in a scene Jersey Shore fans will look forward to watching in her upcoming third season.
Article continues below advertisement
The beer bong photos were taken approximately a year before Snooki hosted a party where high school senior Michael Truncali consumed alcohol and then left and died in a car crash with a blood alcohol level of .18. Snooki, whose real name is Nicole Polizzi, was charged with Prohibited Sale of Alcoholic Beverages, as authorities said she charged a fee for alcohol.
The beer bong photos were taken approximately a year after the 2004 tragedy, while Snooki was still underage but boozing heavily.
"Snooki would just chug beer as fast as she could by putting 2 or 3 beers in a funnel and then going out for the night," the source told RadarOnline.com about the star's behavior after the death of her friend.
"She was thrown out of a lot of clubs for being drunk and she would have to get a ride home because she was so wasted.
"Even after what happened at her house in high school, with our friend drunk driving and getting killed, it still wasn't an eye opener," said the source, who knew Truncali.