Snooki: Media Has Obsession With 'Celebrity Pregnancy Weight Gain,' Cites 'Awful' Treatment Of Expectant Kim Kardashian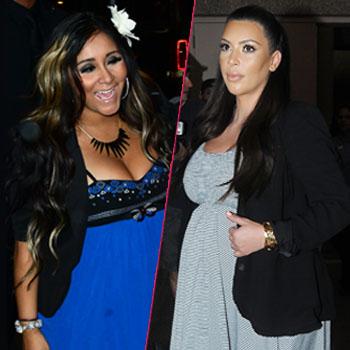 Snooki pulls no punches in her new book Baby Bumps about the way the media feverishly reports on "celebrity pregnancy weight gain," pointing out Kim Kardashian as a prime example.
Speaking about the coverage she received during her own 2012 pregnancy with son Lorenzo, Snooki wrote that "tabloid monitoring of how fast women lose the baby weight is practically a blood sport," and that "some women have been mocked cruelly for it.
Article continues below advertisement
"If you weren't on the cover of In Touch in a bikini within two months of giving birth to talk about your salsa workout, you were a fat, lazy loser."
As an example, she pointed out "how Jessica Simpson and Kim … were tracked and criticized in the media.
"Awful! Worrying about weight gain made the nine months even harder," she recalled. "The one bright spot of pregnancy was eating whatever you wanted."
As we previously reported, others connected to Kim, including her best friend Jonathan Cheban and step-brother Brody Jenner, have been outspoken in knocking coverage of the star's weight gain and fashion choices during her pregnancy with daughter North West.
The reality star's new book Baby Bumps hits stores Jan. 14.