Kim Kardashian's Best Friend Slams Weight Gain Critics: 'She'll Have That Body Back Two Months After'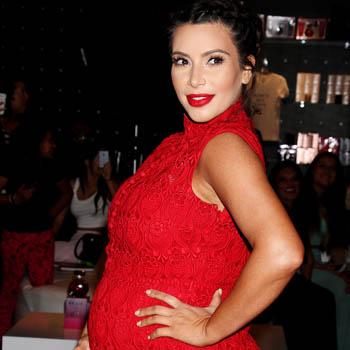 Kim Kardashian has come under intense scrutiny for her maternity fashion choices that have emphasized her growing baby bump, and she was even compared to Shamu after wearing an unfortunate black and white dress, but her best friend Jonathan Cheban says she'll have no problem dropping the baby weight.
kim best friend says she's losing weight in 2 months.
Pregnant Kim, 31, will give birth to a daughter in mid-July and Jonathan says that Kanye West's baby mama will bounce back ASAP.
Article continues below advertisement
"She's so beautiful and she'll have that body back two months after," he told YourTango.com in a new interview.
Jonathan said that Kim's fashion choices are runway worthy, and he doesn't care about people that criticize her.
"I don't even pay attention to the haters because it's like Kim's so gorgeous. I was with her last week and I mean, look at the haters. That's all I gotta say.
Kim's MET Gala Givenchy floral dress was her most recent fashion failure, but her best friend said she was stunning in the gown with matching gloves.
"She's dressed head-to-toe couture," Jonathan said about his reality star friend and mommy-to-be.
"She's gorgeous. She's got hair and makeup."