AUDIO: Jersey Shore's Angelina: The Situation Is 'In The Closet' & Snooki Is 'Drunk' And 'Fat'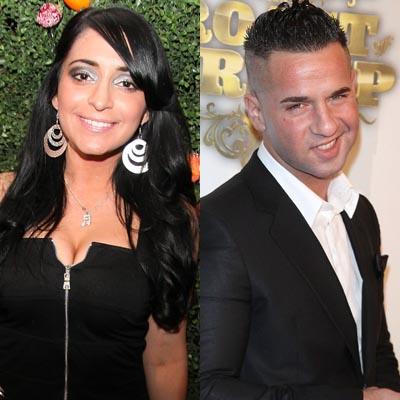 Angelina Pivarnick is no longer on the Jersey Shore, but she's still fighting a war of words with her old cast mates, and RadarOnline.com has an audio clip of her most recent radio interview where she rips both The Situation and Snooki.
As a guest on 107.5 WKZL's Murphy In The Morning Show Angelina told about the time she "hooked-up" with Mike "The Situation" Sorrentino, revealed that they didn't "smush" and made the shocking claim that she thinks he might be gay.
Article continues below advertisement
"I didn't have sex with him but to be honest with you, to get a girl riled up to the point where you want to have sex, he doesn't even know how to do that. I honestly feel like he's in the closet right now, he doesn't want to come out."
Angelina said their hook-up wasn't anything to get excited about. "He's lame, he's not all that. Ladies he's not all that," Angelina warned. "He doesn't even know what he's doing. He's like a dead fish. He just sits there.
Host Jack Murphy, co-hosts Katie O'Brien and Jared B. Pike asked her if she was saying The Situation was gay?
"Who knows? You never know these days. More power to him if he's gay."
She saved her real scorn for her former Jersey Shore cast mate Snooki though.
When Jack Murphy said he thought Snooki's recent Rolling Stone magazine cover photo was "unflattering" she railed on the pint sized star and used derogatory language.
Listen to Angelina's Interview on WKZL
"I think that she's an unflattering person all together. I think that she's a drunk, I think that she doesn't know how to go to the gym. I think that she's all around mentally retarded."
Angelina continued her rant. "She's T and L, no G. She looks like she's orange; she goes tanning way too much.
"I feel for her when she gets old, all the wrinkles that girl is going to have. Jesus. You know what? She doesn't go to the gym. Go to the gym. Snooki is fat."
Ouch. Those are fighting words!
RELATED STORIES:
EXCLUSIVE: Angelina's Pivarnick's Engagement A Publicity Stunt; Fiance Calls Her 'Bad Evil Person'