Exclusive
EXCLUSIVE: Angelina's Pivarnick's Engagement A Publicity Stunt; Fiance Calls Her 'Bad Evil Person'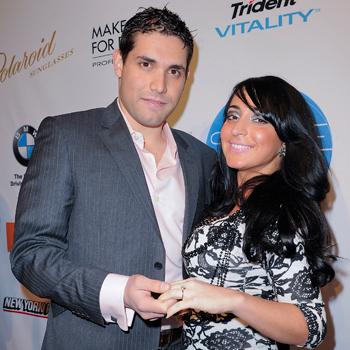 Jersey Shore alum Angelina Pivarnick was all smiles February 16 when she received a 2.5 carat diamond in a very public engagement on the red carpet during New York Fashion Week.
But RadarOnline.com has obtained exclusive texts messages sent by her fiance Dave Kovacs just hours after his proposal calling the former reality TV star "a bad evil person!"
The engagement is nothing more than a "publicity stunt," a source close to Kovacs tells RadarOnline.com.
Article continues below advertisement
Kovacs, the insider explains, wants to be famous. He loves Jersey Shore, assumes the producers are going to invite the controversial Angelina back into the cast, and believes if they're engaged, he'll be part of the MTV reality show too.
"But Angelina is also seeing this guy Ivan, a firefighter from Staten Island. The day she got engaged to Dave, she put photos of herself and Ivan together on on her twitter with their shirts pulled up leaning up against each other in his bedroom," the source reveals.
Angelina has told pals that she wants it to appear that she's living in Manhattan so she says she lives with Dave and drives his Porsche, the source says. But in reality, she out on Staten Island most of the time, hooking up with Ivan.
The source also explains that Dave had a "panic attack" after proposing and that what led him to send the text calling his true love Angelina "a bad evil person."
Despite the love triangle, Angelina is on board for the engagement because she thinks it will score her a new reality show.