Exclusive
EXCLUSIVE DOCUMENTS: Jersey Shore's Angelina Pivarnick Sued For New Jersey Club Brawl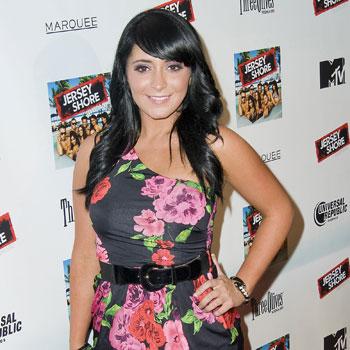 Angelina Pivarnick has landed in some legal hot water.
The Jersey Shore star is being sued by Melissa Mayne over an alleged 'violent assault' that purportedly took place at the New Jersey Trump Taj Mahal Hotel and Casino last month.
EXCLUSIVE DOCUMENTS: Melissa Mayne Sues Angelina Pivarnick For Assault
In a lawsuit filed December 28th, Mayne claims that as Pivarnick was entering the Casbah nightclub within the Trump Casino, on her way to compete in a boxing match on December 4th, she grabbed Mayne, 'struck her in the face, threw a glass in Mayne's face, pushed and pulled her to the ground, and grabbed her cellular phone from her hand and threw it across the room.'
Article continues below advertisement
Mayne is also suing the Trump Taj, claiming that their security guards watched the whole alleged incident and did nothing to intervene or stop it.
Mayne claims that as result of the alleged attack she 'sustained temporary and permanent bodily injuries, endured and will endure great pain and suffering, has been and will be compelled to seek the services of physicians and other health care providers in an attempt to cure herself of her injuries, and has been and will be prevented from attending to her normal business affairs.'
She is suing for unspecified damages and demanding a trial by jury.
However, those in camp Angelina say the suit is entirely frivolous and without merit. Angelina's mother, Annmarie, tells RadarOnline.com: "Angelina is not a fighter, in fact she didn't even want to do the boxing match but I encouraged her to.
"She did not hit this girl, she's just trying to get hold of some of Angelina's money."
And according to the reality star herself, Mayne wanted a picture with her and followed and harassed her even after Angelina asked her to stop.
MORE ON:
Angelina Pivarnick
Article continues below advertisement
"She kept following me and flashing a camera in my face while pulling on my shoulder," Angelina tells RadarOnline.com.
"I told her I would take a photo with her later but she got angry and began swearing at me and she hit me."
She added: "I did throw a drink in her face but it was just the drink not the glass.
"She never got knocked out and in fact she said to me, 'I'm going to take all your money, and then blew me kisses."