Exclusive
EXCLUSIVE INTERVIEW: Jersey Shore's Angelina Threw Drink & Knocked Me Unconscious, Claims Woman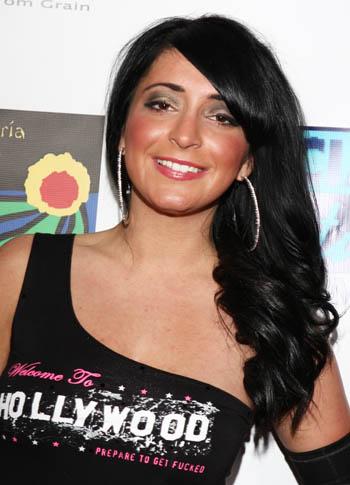 Jersey Shore's Angelina Pivarnick's alleged attacker has accused the reality star of instigating the altercation between the two women.
Melissa Mayne, 24, claims Pivarnick threw a drink at her face and knocked her unconscious for no apparent reason while Pivarnick tells a different tale. RadarOnline.com spoke to both women to get to the bottom of the story.
According to Mayne, at around 9:30 pm on Saturday, December 4, she was accompanying her friends down an escalator leaving The Casbah when they ran into the Jersey Shore castoff who was surrounded by a throng of people vying for a photo opportunity with her.
Article continues below advertisement
Mayne has difficulty recalling the proceeding events, but says she remembers Angelina coming at her.
What happened next is a blur to her. "I don't know if the glass knocked me out or if she knocked me out. When I got up...she was freaking out. I was crying trying to find a way to get it together but I remember looking at her freaking out, screaming stuff, just acting really crazy," she told RadarOnline.com.
Angelina tells a very different story about what ensued the evening of the fight. According to the reality star, Mayne wanted a picture with her and followed and harassed her even after Angelina asked her to stop.
"She kept following me and flashing a camera in my face while pulling on my shoulder," Angelina said.
"I told her I would take a photo with her later but she got angry and began swearing at me and she hit me."
Article continues below advertisement
She added: "I did throw a drink in her face but it was just the drink not the glass.
"She never got knocked out and in fact she said to me, 'I'm going to take all your money,' and then blew me kisses."
When Mayne was asked if she had any prior contact with Angelina before or during the festivities, Mayne reiterated that "she just attacked me for no reason, that's all I'm trying to say. It's not like I provoked her or anything."
Mayne's lapse in memory might not be a large factor in the dispute as she claims there is a video corroborating her version of the story and that she has seen the video. At this time, the tape has yet to surface.
Mayne described Angelina as "definitely drunk," and says she had seen her at the bar drinking earlier in the evening.
RELATED STORIES: