Snooki: I'll Never Be Anorexic Again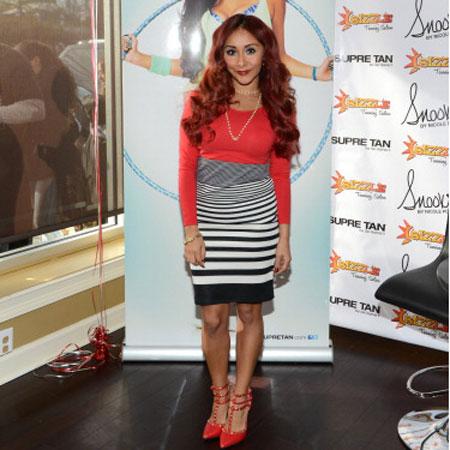 Pint-sized MTV star Snooki has battled her weight for years, ballooning up with on the Jersey Shore, getting fit in the gym and then making healthy gains while pregnant with her baby, but she is vowing to maintain her healthy size now and promises "I'm never going back to anorexia again."
Nicole "Snooki" Polizzi, 26, has dropped 44 pounds since she gave birth to Lorenzo, but she says she was at her dangerously low weight in high school, and explained how she developed her eating disorder. .
Article continues below advertisement
"I became anorexic because of cheerleading. I wanted to be light so people could throw me in the air," she told Life & Style magazine.
She weighed a frightening 80 pounds and her parents warned her that she might die.
"I got to the point where I only ate ice cubes, all day, for days in a row," she admitted.
But her parents warning served as a wake-up call.
"I got scared," she said.
Skyrocketing to fame for her wild boozing ways, Snooki said that her anorexia is still a fear for her.
"It's been on my mind. Even before I was pregnant and I started losing weight, I was like, 'Oh crap, I hope I don't go back to not eating again.'"
However, she said that hard work has paid off and her weight now is just under 100 pounds. Snooki said she is staying healthy for the sake of her son, vowing to never be anorexic again.
"I don't want Lorenzo to see me go through that. It's NOT going to happen."