Snooki Slams Critics Of Her Drastic Weight Loss, Declares I'm Not 'Too Skinny'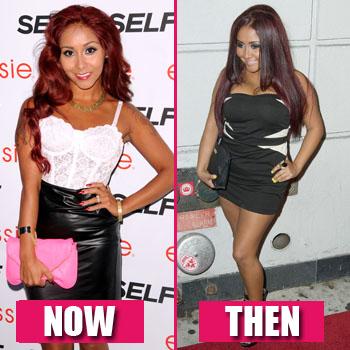 Snooki has lost a whopping 50 pounds since giving birth to her little son, Lorenzo, and she is firing back at the critics who now say she is too skinny.
Nicole Polizzi, 25, explained her drastic weight loss by saying that she does "strength training with a trainer four or five times a week and also cardio on my own, either running or spinning," she told In Touch magazine.
The Jersey Shore star now weighs a miniscule 96 pounds and is only 4'9" so she says she's just the right size.
Article continues below advertisement
"I definitely don't think I'm too skinny," the reality show star said.
"My arms still jiggle when I wave."
Snooki said that she's no longer a boozer or binge eater, and instead just loves eating healthy.
"So for breakfast, I'll have an egg white omelet with veggies. Then lunch is a chicken wrap or strawberry salad and dinner is grilled chicken with veggies."
Now a contestant on Dancing with the Stars, Snooki is bound to shed even more weight vying for the mirror ball!
Do you think Snooki is too skinny? Tell us in comments.