Snooki's Drastic Weight Loss: She's Using Laxatives And Starving Herself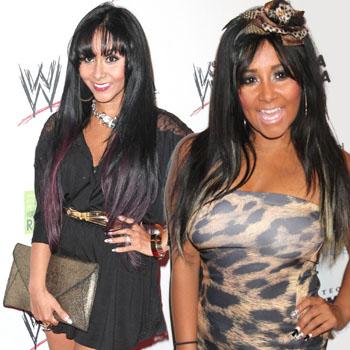 Nicole 'Snooki' Polizzi has been bragging about her 42-pound weight loss following the birth of her son, but those close to the MTV star tell Star magazine that she's just plain starving herself!
"All she eats is lettuce and egg whites," says a source.
Snooki gave birth to her son Lorenzo LaValle in August 2012, and she recently said that she dropped the first 20 pounds just by breastfeeding.
While the 4'9" Jersey Shore star has claimed that she works out and eats healthy, the source disagrees about the drastic measure's she's taking.
Article continues below advertisement
"Most of her calories come from booze, and she uses laxatives too. It's scary. She looks emaciated, and everyone is worried sick."
For more exclusive details about Snooki's frightening weight loss methods and to find out which of her Jersey Shore cast mates are worried about her pick up the latest issue of Star magazine on newsstands Thursday.