Extreme Makeover! Pint-Sized Snooki Sheds 42 Pounds!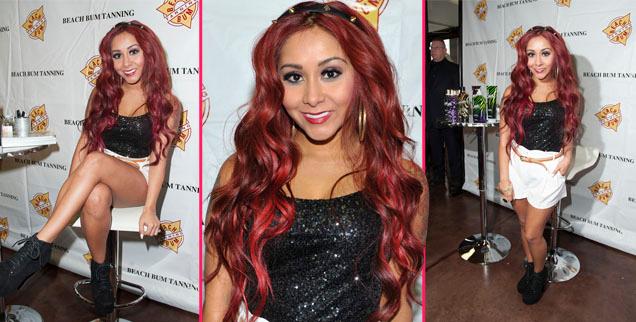 Snooki is disappearing, literally!
The pint-sized MTV star has battled the bulge all her life, but now after giving birth to her son Lorenzo, she's dropped a whopping 42 pounds!
Nicole "Snooki" Polizzi has shed her baby weight, and while she says she did it for herself, she reveals that she wants to make sure her fiancé Jionni LaValle doesn't get a wandering eye – "I also wanted Jionni to know I can be hot as a mom!"
Article continues below advertisement
Just 4'9" tall, Snooki says she easily dropped the first 20 pounds just by breastfeeding, but then she enlisted the help of trainer Anthony Michael, changed her diet, and saw the weight disappear.
The Jersey Shore star admitted to Us Weekly that for the last three months of her pregnancy she didn't worry about counting calories.
"I was like 'F**k it, I'll eat what I want,'" she said and didn't ever turn down cookies, pasta or cheese.
But now she's on a strict 1,100-1,300 calorie diet that is low carb, including meals of sweet potato, chicken and asparagus that she snacks on every two hours.
She hits the gym religiously with her trainer, and does plymoetric work, 20 to 30 minutes of cardio and mixes in Zumba or kickboxing.
Snooki says the hard work is paying off, and her fiancé loves her new body.
"He gets mad now because I wear tight things or short skirts. But part of me wanted to lose the eight for him because I'm psycho – I don't want him to leave me! But he did start dating me when I was heavy, and he loved me then."
Famous for her booze-fueled episodes in bars around the world, Snooki says she's cut down majorly on her drinking.
"I don't want it as much. When I had that first sip of wine, I hate it – it was bitter and sour, I think because it had been sitting under a light for two months. And when I drink I gain weight. It just messes up my whole routine."