Exclusive
Mother Nose Best? Kendall Jenner Had Nose Job, Says Doc -- Just Like Mom Kris Wanted For Khloe Kardashian!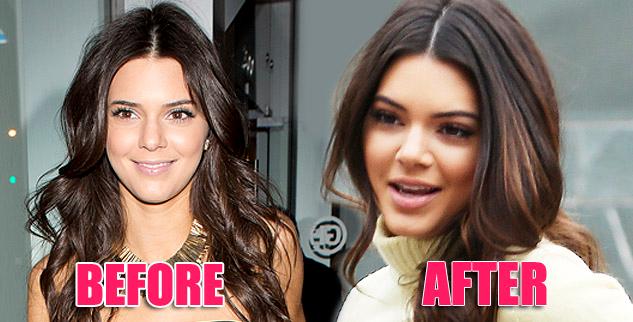 Article continues below advertisement
"Kim's little sister appears to have a littler nose!" plastic surgeon Dr. Anthony Youn tells RadarOnline.com. "Kendall looks like she's undergone some thinning and shortening of her nose, making it more resemble the nose of her famous sister, Kim."
As a result, Dr. Youn, who has not treated Kendall, says, "Her nose looks more elegant and refined. Kudos to her plastic surgeon!"
Kendall's nose isn't the only part of her face that's changed in recent weeks. Back in December, her puffed-up lips attracted attention, and experts told RadarOnline.com that it appeared she'd had lip injections.
"They definitely looks like filler, most likely Juvederm," licensed aesthetician Alicia Hunter said. "Her lips look unnaturally puffy. Unless she just got it done, and there's swelling, she got too much put in for her age, in my opinion."
Jenner's older sister, Kim and Kourtney Kardashian, have admitted to getting Botox and breast implants. Khloe, meanwhile, maintains she's au natural and slammed Kim as "stupid" for going under the needle.