Exclusive
Life Imitating Art? Katie Holmes Feuds With Distant Husband In Film Made As She Prepared To Divorce Tom Cruise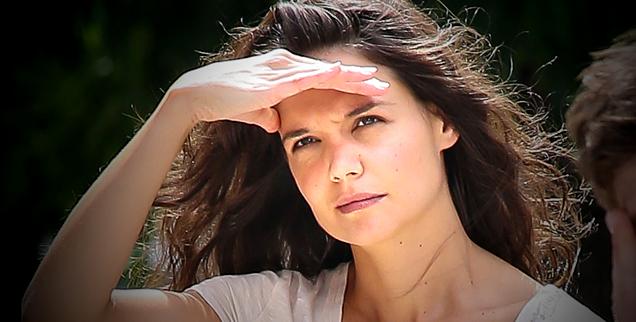 In the summer of 2012, Tom Cruise was blissfully unaware that his wife, Katie Holmes, was about to blindside him with a bombshell divorce in a matter of days.
But as she prepared to blast apart their marriage, Holmes was living at an abandoned theater camp in the woods of Kent, Connecticut, as she filmed Christian Camargo's Days & Nights, a retelling of Anton Chekhov's play, The Seagull. The world got a glimpse inside that calm before the storm as the film premiered at the Palm Springs International Film Festival this weekend. And as Holmes' character feuded with her distant husband and doted on her daughter, the potential parallels between her life and art during that tumultuous summer seemed difficult to ignore.
Article continues below advertisement
In the original version of the play, the character Holmes' "Alex" is based on is initially single, and does not marry and have a child until the final act. But much of Holmes' character is centered around her dissatisfaction in her marriage.
Early on, Holmes' Alex complains of the boredom of being an unemployed single woman, joking "I got married and had a kid" to escape the tedium of her everyday life -- a ploy that seems not to have worked.
Later, on, she tells her distant husband, "I wanted a baby," as an implied justification for why she married him. The two are cold to each other, and rarely speak for much of the movie, but appear more amicable in the final scenes when their daughter -- a Suri lookalike -- grows into a toddler.
Holmes was spotted spending quality time with her own daughter during filming, swimming in the lake and playing throughout the camp with Suri.
At the screening in Palm Springs Sunday night, director Camargo told the crowd about the sense of camaraderie the cast enjoyed while living and working together during filming.
Just one month later, Holmes would file for divorce from Cruise.
Audiences may have a chance to view pre-divorce Holmes later in 2014, as producers revealed at the screening that they're currently fielding several distribution offers and expect to make a decision by the end of the month.