Buh-Bye, Bieber! Thousands Sign White House Petition To Deport Justin & Revoke His Green Card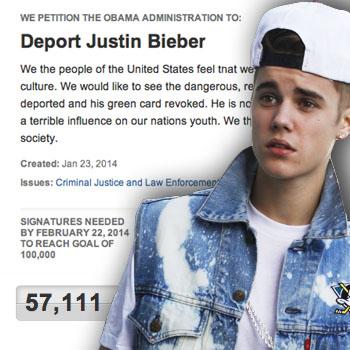 Article continues below advertisement
According to the White House, "If a petition gets enough support, White House staff will review it, ensure it's sent to the appropriate policy experts, and issue a response."
Though the whole campaign may seem like wishful thinking, such pop culture petitions have evoked a response in the past: The White House has previously responded to petitions criticizing Jimmy Kimmel, asking for a White House beer recipe, and begging the White House to construct a $850,000,000,000,000,000 Death Star like the one featured in Star Wars.
Would you sign the petition to deport Bieber? Let us know in the comments!