Bieber Intervention? Singer's Manager, Mother & Friends Meet Up In Panama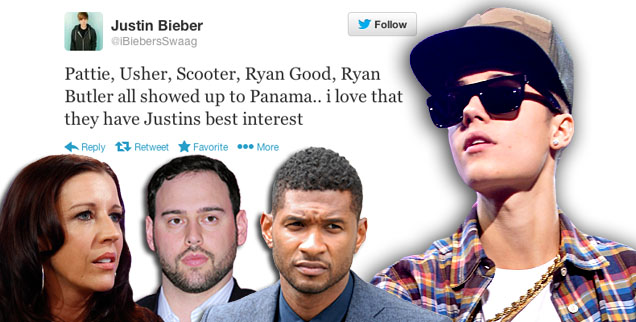 Could an intervention be in the works for Justin Bieber?
It looks like that may be what is happening Sunday, as the most important people around the troubled singer in Panama where he flew late yesterday after fleeing from Miami.
"Pattie, Usher, Scooter, Ryan Good, Ryan Butler all showed up to Panama.. i love that they have Justins best interest," one of Bieber's most influential fansites posted Sunday morning.
Article continues below advertisement
One person who is definitely hoping a successful is in the works is Bieber's former housekeeper Tatiana Voziok, who has given a detailed eyewitness account of the drug use in the singer's home and confessed he'll end up "dead like Michael Jackson" if he doesn't stop soon.