There He Goes! New Surveillance Camera Footage Capturing Justin Bieber's Miami Drag Race Revealed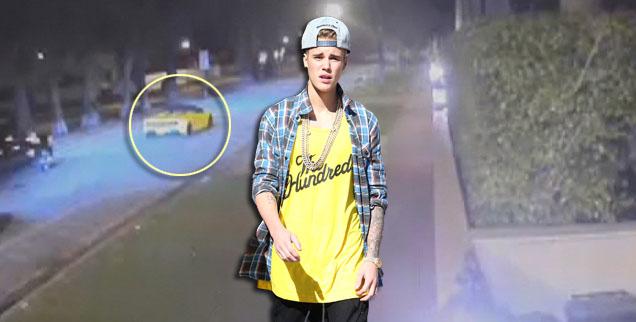 Justin Bieber's last moments as a free man in Miami were captured on surveillance camera. Now, RadarOnline.com has learned, the footage capturing his drag race and eventual arrest has been released to the public.
CBS4 Miami news producer Maggie Newland obtained the footage of Bieber, in a yellow Lamborghini, racing down Pine Tree Drive in Miami followed by his friend and soon-to-be fellow inmate, Khalil Sharieff, in a red Ferrari, as SUVs -- one of which reportedly contained his dad, Jeremy Bieber-- followed.
Article continues below advertisement
As Radar has reported, Bieber was defiant with arresting officers, ranting "What the f*ck did I do? … Why the f*ck are you doing this?"
Investigators noted that although his BAC was below the legal limit, according to a Breathalyzer, he reeked of alcohol and exhibited "all indicators of an impaired driver."
Bieber posted his $2,500 bail on Thursday afternoon and has since been spotted popping bottles with his dad.