Exclusive
Not Exactly The Four Seasons -- Conditions In Justin Bieber's Rat-Infested Jail Are So Bad, The Corrections Officers Recently Protested!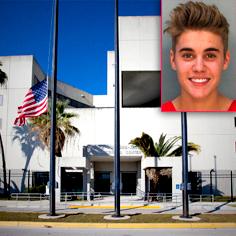 More accustomed to luxury hotels and Hollywood mansions, Justin Bieber surely had a rude awakening this morning when he was transferred to Miami Dade County Jail's Turner Guilford Knight Corrections Center, where the conditions are so brutal, the corrections officers themselves recently protested!
According to reports, the issues at the pre-trial holding center range from overflowing sewage lines that leave the floor covered in human waste, to rat infestations, rotting meat in the air ducts, and worse.
Article continues below advertisement
"You could be in a holding cell with 30 other guys," one inmate told MiamiBeach411.com. "There's only two toilets, and sometimes you get urine seeping out of the toilet. When you got people sleeping on the door like they do, it's quite disgusting."
"You get the smell of people vomiting frequently," the inmate continues. "…sh*t on the floor too."
Adding to the ambiance, the report claimed, inmates sometimes put their meal ration, slices of bologna, in air ducts "so the smell of rotten processed meat can be enjoyed by the entire cell."
The reported conditions there are so disgusting, four current and former Miami-Dade corrections officers protested back in August, calling for a rehaul of the facility, according to CBS Miami.
Bieber was transferred to the facility early Thursday morning after being arrested for DUI while drag racing around 4:30 am. He will appear via video feed from the jail in misdemeanor bond court this afternoon.