Arrest? What Arrest? Smiling Justin Bieber Thanks 'Beliebers' For Changing His Life As He Leaves Miami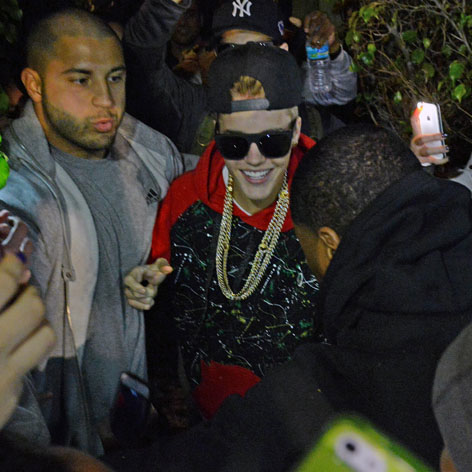 Justin Bieber can't stop smiling. Wearing his trademark gold chains and sunglasses, the pop star left his rented Miami house late Friday night, grinning ear-to-ear as he stepped into a crowd of adoring fans.
He signed autographs, posed for pictures and acted like he didn't have a care in the world as his bodyguards carried suitcases to their SUV for their trip out of Florida.
Bieber's father, Jeremy, was also out in the crowd. His model pal, Chantel Jeffries, had left a few hours earlier.
Article continues below advertisement
The party like atmosphere came just a day after the singer was busted and charged with DUI, driving with an expired license and resisting arrest.
Earlier on Friday, the Biebs struck a different tone when he took to Twitter to thank his fans for their support.
"YOU ARE ALL WORTHY NO MATTER WHAT ANYONE SAYS >> BE STRONG GOD IS WITH US ALL> MY BELIEBERS CHANGED MY LIFE> I WILL FOREVER BE GRATEFUL," he wrote .