What Say You, President Obama? Petition To Deport Justin Bieber Reaches 100K Signatures -- White House Must Address!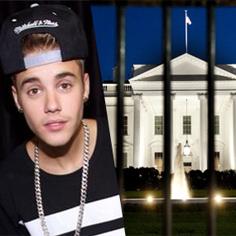 A petition started to have Justin Bieber deported and revoke his green card has reached more than 100,000 signatures in less than a week, meaning it will be put on President Obama's agenda and the White House will have to address it.
Created on Jan. 23 on the White House's official website, the petition will go to review because the White House has promised to review and address any petition that reaches at least 100,000 signatures within a 30-day window.
Article continues below advertisement
At time of publication the petition has already garnered a whopping 108,488 signatures in just seven days and continues to soar.
"We the people of the United States feel that we are being wrongly represented in the world of pop culture. We would like to see the dangerous, reckless, destructive, and drug abusing, Justin Bieber deported and his green card revoked," the petition reads.
"He is not only threatening the safety of our people but he is also a terrible influence on our nations youth. We the people would like to remove Justin Bieber from our society."