Not Such A Jolly Season For Octo-Mom: Owner Of Home She's Staying In With 14 Kids Wants Her EVICTED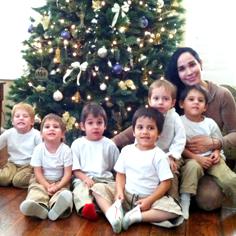 It might be a blue Christmas for Nadya Suleman, as the "Octo-Mom" could be evicted from the Orange County, Calif. house she's living in with her 14 kids, RadarOnline.com has learned, after its' former owner sold the house to a new person who wants her gone.
Broken windows visible from the street indicate the five-bedroom, three-bathroom house (which was once used as a half-way home) might be in poor condition, a reason why her new landlord Lana El-Jor said she wants the former media sensation to move off the premises.
Article continues below advertisement
"I have had problems refinancing the building myself because of her," El-Jor told the UK's Mirror. "That's one of the things why we have to ask her to leave. The bank refused to support the loan.
"She is said to have left her houses abused, and everything, and it worried the bank. It was very messy … 14 kids need a bigger backyard, for sure. I saw they had four bunk beds. I think those were for the little ones. And they had beds in all the other rooms."
A neighbor said that the Suleman children haven't been frequently seen since moving into the neighborhood, as "it seems that Octo-Mom or the nanny rarely take the children out and most of them spend all day holed up in the house as if they're in hiding.
"It doesn't look like a happy existence."
The 38-year-old Octo-Mom, who's appeared in a porn film and at a strip club in past cash grabs came into prominence Jan. 26, 2009 when she gave birth to the octuplets at a Southern California hospital. All 14 children of her kids have come as a result of in-vitro fertilization.