Exclusive
Financial Records Reveal Octo-Mom Collected Welfare While Earning Much More Than Allowed -- Government Probe Heats Up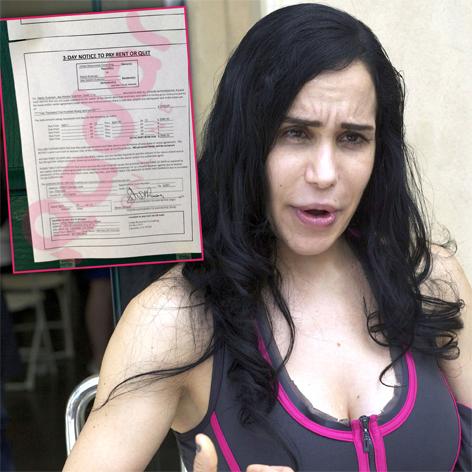 For Nadya "Octo-Mom" Suleman, porn paid a few bills -- but ultimately it's going to be very costly.
Investigators for the Los Angeles County Department of Welfare Fraud Prevention and Investigation (WFP&I) have uncovered the mother-of-14 earned much more than allowable for her to legitimately collect welfare for herself and her brood, RadarOnline.com has exclusively learned.
Legally, Octo-Mom is capped at pocketing $119,000 in a calendar year.
Article continues below advertisement
But financial records from former employers, including Wicked Pictures, the porn company behind Octo-Mom: Home Alone, were examined by WFP&I and revealed the single mom took in at least $150,248.77 in 2012.
And it could lead to criminal charges and jail time, we've learned.
The documents, supplied to WFP&I and seen by RadarOnline.com, expose how Octo-Mom made $33,256.77 from her "self-pleasure" film.
The 37-year-old also received $58,680.00 from an Encino, Calif.-based organization called DD Entertainment LLC, while another firm forked over $57,499.00 for her services, according to 1099 documents provided to WFP&I.
This income was for Octo-Mom's appearance on HD Net's Celebridate, various image deals, interviews sold to media around the world, commercial appearances -- and her appearance at a strip club in Florida, investigators uncovered.
Article continues below advertisement
A third organization, Cast & Crew Talent Services from Burbank, Calif. paid Octo-Mom a total of $813 to appear on the CW program H8R.
The investigation has also not been completed, we're told.
Indeed, authorities continue to probe some of her other business activities and believe she could have raked in even more money from activities such as bookstore signings and celebrity boxing bouts.
Damon Feldman, a Philadelphia boxing promoter who once hired Octo-Mom, confirmed to RadarOnline.com that a female investigator for WFP&I contacted him in the last few days.
"I can confirm I was contacted," Feldman said. "I intend on providing evidence because in all, Octo-Mom received more than $20,000 dollars from me."
Octo-Mom collected more than $60,000 in welfare benefits, including food stamps, in 2012, according to a source familiar with the investigation.
If she is charged with welfare fraud, Octo-Mom could face three years or more in prison.