Exclusive
Child Protective Services Want To Know If Octo-Mom's Kids Had Access To Her Xanax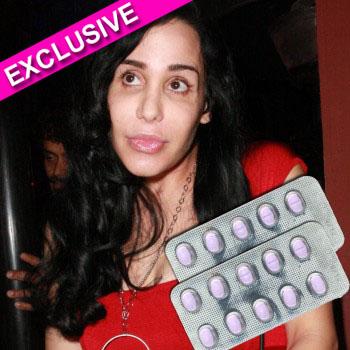 Article continues below advertisement
"Xanax is hardly ever given to children, it's almost unheard of, it's just that dangerous. DCFS will want to inspect the Xanax bottles -- do they have child safety caps, does she carry it in her purse? Social workers will also want to know how Nadya was obtaining the Xanax, who was the prescribing doctor and what other medication is she taking? Nadya's house is always in utter chaos, and all medication, including over the counter drugs, need to be locked up and kept away from the kids."
As we previously reported, officials from the Los Angeles County Child Protective Services are planning on visiting Suleman's house in Palmdale, Calif. yet again, after someone made an anonymous call to the agency last Friday over concerns about the welfare of the children.
Meanwhile, it doesn't appear that Nadya is taking rehab seriously because, she was recently spotted in Tennessee filming a spoof video.
Article continues below advertisement
According to a source, Nadya was filming a shoot with Cledus T. Judd, a country music artist known for his parodies of popular songs.
"Nadya has been in Tennessee since at least Monday where she's filming a spoof in which she gets married to Cledus," the source previously told RadarOnline.com. "She was extremely annoying to everyone on set and her crazy laugh scared all the geese off!"
The insider reveals that while Nadya is supposed to be in rehab, she was paid $1,500 to do the shoot and her airfare and accommodations were also paid for.
"It's interesting that Nadya's son filed a restraining order by a member of her manager's team stating that Suleman is unavailable due to being in rehab," the source said. "When really, she's just off making money and taking a break from her kids!"
Meanwhile, "There is genuine concern about the well-being of Nadya's children. DCFS will want to know who is taking care of these kids, and are the older ones regularly attending school? Have the kids talked to Nadya while she is away? Nadya is allegedly in rehab for prescription drug abuse, so did the kids have access to any of those medications? These are answers that social workers need answers for," the insider said.