'It Smelled Like Urine': Landlord Left To Clean Up Octo-Mom's House Of Horrors After She Leaves Behind Trash, Horrendous Conditions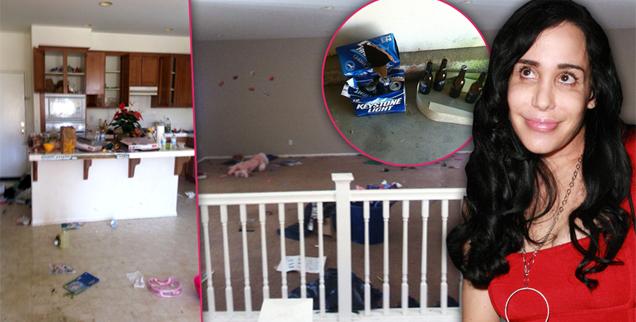 This is the mess Nadya "Octo-Mom" Suleman and her 14 kids left behind after she broke her lease on a southern California rental home.
RadarOnline.com has obtained exclusive photos that document what her horrified landlord found last week after he regained access to the house, a den of filth filled with piles of trash, scattered toilet paper, broken blinds, empty booze bottles and cans -- even a half eaten pizza.
Article continues below advertisement
The walls were left riddled with graffiti and discarded clothes and toys littered the stained carpet.
"Octo-Mom had not paid her rent for the month of April as of last Wednesday," a source close to the landlord confirmed to RadarOnline.com.
"Then, in the middle of the night, she moved her furniture and the kids out of the home, leaving the house in filth and smelling like urine.
"The landlord was disgusted. There were beer bottles in the garage and trash littered all throughout the house."
The source said it was likely the much maligned Octo-Mom was served with a notice giving her three days to pay her outstanding rent or quit the lease.
"She's bailed on the lease after trashing the home," the insider added.
It's not known where the baby-producing machine and her kids have moved.
Octo-Mom Erupts! Video Showdown With Her Mom Over Babies
The trashed residence is the same Palmdale, Calif. home the single, unemployed mom frantically cleaned up last December after police and child family services investigated her after receiving a complaint that she let her children live in horrendous conditions.
MORE ON:
hollywood happenings
Article continues below advertisement
It wasn't the first time Octo-Mom -- who relies of food stamps -- was subject to an investigation about the squalid conditions in which she and the children live.
In April of last year, a hair stylist provided photos of Octo-Mom's kids running around barefoot with no pants, using portable potty training chairs in the backyard.
"She thought it was unacceptable that they're half-naked, going potty. But moms out there, come on?" Suleman insisted, at the time.
As RadarOnline.com revealed last week, Octo-Mom -- an occassional stripper and porn star -- is receiving free health insurance from the Californian government, all while the L.A. County Dept. of Welfare Fraud Prevention investigates whether she is making more than minimum amount required to collect welfare.