TV Chef Nigella Lawson Admits Cocaine Use, Testifies How Ex-Husband Charles Saatchi Threatened To 'Destroy' Her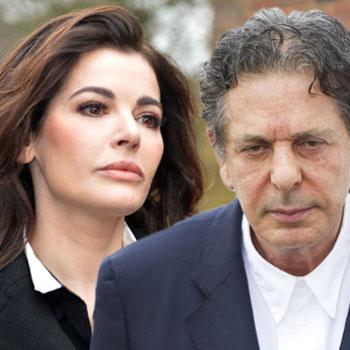 Celebrity chef Nigella Lawson told a London court Wednesday that ex-husband Charles Saatchi had threatened to "destroy" her if she didn't clear his name and admitted that she has done cocaine in the past, as she testified in the trial of two former personal assistants accused of fraud, RadarOnline.com is reporting.
Two of Saatchi's former assistants, sisters Francesca and Elisabetta Grillo, are on trial for allegedly stealing $480,000 from the billionaire businessman by making lavish purchases for themselves on his corporate credit cards.
Article continues below advertisement
Lawson said that Saatchi, whom she divorced in July, threatened to destroy her if she did not clear his name after he was photographed holding her throat outside a restaurant.
"He had said to me if I didn't get back to him and clear his name he would destroy me."
Lawson told a jury at Isleworth Crown Court in London that she felt she had to do her civic duty. "It's difficult for me, it's very difficult for my children, but I want to do the right thing," she added.
Article continues below advertisement
She also accused Saatchi of spreading "false allegations of drug use" against her.
"I have been put on trial here ... and in the world's press," she said.
In a shocking new claim, Lawson told Isleworth Crown Court that she has taken cocaine twice in her life but added that the claim she was a "drug addict or habitual'' user of the drug is "absolutely ridiculous''.
The case has been overshadowed by details of the breakdown of the 10-year marriage between Lawson and art collector Saatchi.
Defense lawyers have claimed Lawson used illegal drugs including cocaine, citing an email from Saatchi in which he referred to her as "Higella." They have suggested Lawson turned a blind eye to the Grillos' lavish expenditure in return for them keeping quiet about her drug use.
But Saatchi told the court last week that he had never seen Lawson taking drugs and said the email was written in anger and he regretted sending it.
Article continues below advertisement
Lawson, 53, said she had used cocaine half a dozen times when her then husband John Diamond was terminally ill and in 2010 when she was subjected to "terrorism" by Charles Saatchi.
She also admitted smoking cannabis, including starting "relatively recently" but claimed she is now drug free.
She said: "I have never been a drug addict. I've never been a habitual user… There are two times in my life when I have used cocaine."
Ms. Lawson said the first instance was with her late husband when he found out his cancer was terminal, and said she had taken it with him on six occasions.
The second occasion was when a friend gave the drug to her.
She added: "There was another time I took cocaine. In July 2010 I was having a very, very difficult time.
"I felt subjected to an act of terrorism by Mr. Saatchi."
However, she said that the cocaine "completely spooked" her and so she immediately went to see her doctor.
"I concluded that I did not have a drug problem, I had a life problem, and I needed to attend to that and I did seek out a therapist," Lawson added.
Stay tuned to RadarOnline.com as this story develops…