Lamar Odom's Daughter Slams Khloe Kardashian Divorce: 'No One Thought They Were Gonna Last Anyways'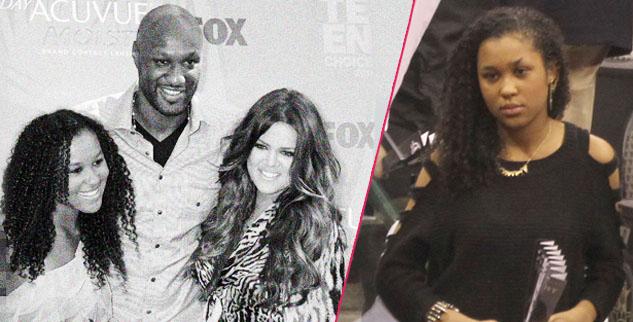 Just days after Khloe Kardashian filed for divorce from Lamar Odom, their families are already taking sides. Though Odom's daughter Destiny had called Kardashian her "boo" as recently as this summer, she spoke out publicly over the weekend to slam Kardashian and say she hopes that her father never gets back together with the reality star.
"No one thought they were going to last, so honestly, who cares," she wrote on her ask.fm page when a fan asked about the divorce, which happened about three months after the couple's fourth wedding anniversary.
Article continues below advertisement
And Destiny, Odom's daughter with his ex, Liza Morales, says she doesn't see any hope for a reconciliation. "I don't want it to happen anyways," she wrote. "I have him all to myself now!"
Asked whether she would fight to be named the beneficiary of Odom's $10 million life insurance policy, which is currently signed off to Kardashian, Destiny explained that it had been a condition of the couple's prenuptial agreement, which, she hinted, is protecting his other assets.
"It's called a PRENUP and thank God for it," she wrote.
Indeed, she seemed all but outright hostile to her former stepmom in the posts. Asked if she would still "be cool with Khloe," Destiny simply responded, "hahahahahahahahahahahhahahahahahhahahahahahhahahaa."
he 15-year-old also revealed that her dad will be back to playing in the NBA in January.
Are you Team Khloe or Team Lamar? Let us know in the comments!