Exclusive
Hard-Partying Lamar Odom Left His Children 'Extremely Disappointed And Saddened' After Canceling First Visit In Months To See Them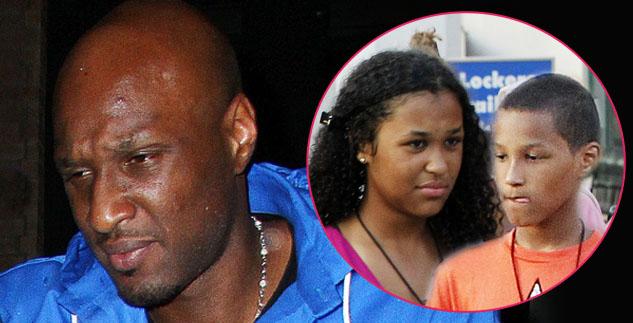 Lamar Odom is the doghouse with more than just his estranged wife Khloe Kardashian, RadarOnline.com has learned.
The drug troubled former Los Angeles Lakers and Clippers star had been scheduled to travel to New York this week to spend time with his two children with ex-girlfriend Liza Morales, but cancelled at the last minute. He was later spotted with Khloe, 29, on the same day that it was announced his mother-in-law Kris Jenner and her husband Bruce had sensationally separated.
Article continues below advertisement
The decision left Destiny, 13, and Lamar Jr., 10, "disappointed and saddened," a source close to the children told RadarOnline.com.
"The kids had expected to see their father this weekend," the insider revealed.
"They were shattered that the visit was canceled. It was to be the first time Destiny and Lamar Jr. had spent anytime with their father since the cheating and drug allegations surfaced.
"In the past, when things were normal, Lamar would call and video chat with the kids on a very regular basis. Khloe even actually organized numerous visits for the kids to come to Los Angeles."
MORE ON:
Keeping Up With the Kardashians
Odom, 33, has not seen the children in months, the insider added.
"What made Lamar's decision to cancel his trip all the more hard was that Destiny and Lamar Jr. know exactly what is going on with their dad because they have been teased at school," the source added.
As for why Odom chose to cancel his trip, one source suggested: "Lamar started partying several hours before his flight was scheduled to take off. He lost track of time and just didn't make it to the airport. Would Lamar rather be doing drugs than spending time with his kids?"
Calls seeking comment to Liza Morales weren't immediately returned.