Exclusive
Khloe Kardashian Will Have A Blue Christmas! Matt Kemp Will Attend Kris Jenner's Night Before Holiday Bash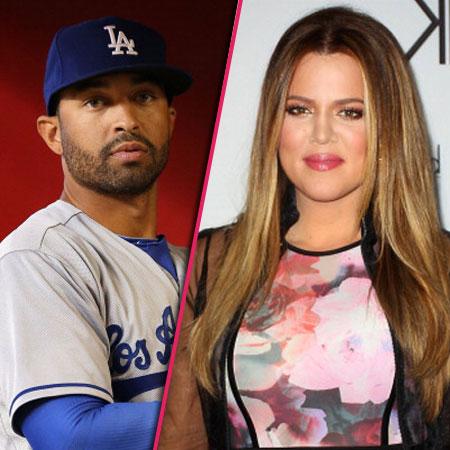 Los Angeles Dodgers outfielder Matt Kemp will be spending Christmas Eve with Khloe Kardashian at her momager, Kris Jenner's famous holiday bash at the family compound in Hidden Hills, RadarOnline.com is exclusively reporting.
Jenner's Christmas Eve party will include "over 200 friends and family of the Kardashian's. Matt, a nearby neighbor, and love interest of Khloe's will be at the party," a family insider told Radar.
Article continues below advertisement
"Don't expect Khloe and Matt to be huddled in a corner off by themselves as they know people are talking about them dating....at this point, they are taking things very slow. Khloe is still extremely sad about the end of her marriage to Lamar Odom, but she had moved on several months ago."
Khloe's estranged husband, won't be in attendance at the party because the E! reality starlet finally filed for divorce from the NBA star several weeks ago.
Odom believes that while he was desperately trying to save his marriage to Khloe, she was secretly hooking up with Kemp, behind his back.
GALLERY: They Really Did Say It! 50 Outrageous Kardashian Quotes
Another source insisted at the time that Kardashian is not dating Kemp and that the pair are just friends.
Expect Matt and Khloe to "exchange Christmas presents.....he absolutely adores her and loves spoiling the women in his life. Matt is very close to his mother, Judy Henderson, and that scores big points with Khloe because of the emphasis she places on the importance of family," the source added.
Article continues below advertisement
Momager Kris Jenner recently voiced her support for Khloe's decision to file for divorce.
"I still love Lamar and I love Khloe, and I hate, hate they're going through this," Jenner reportedly said of the all-but-unexpected breakup, which Khloe solidified Dec. 13 in filing for divorce. "But if it's something that Khloe feels she needs to do, then I'm 150 percent behind her.
"We all lean on each other, we have to."
The normally-optimistic leader of pop culture's foremost family declined to put any type of positive spin on the problematic situation, admitting, "What Khloe is going through is definitely challenging, I'm not going to lie.
"It's also a very interesting time for her because it's very cleansing. She's also showed this side of her that I didn't know she had. I always knew Khloe was strong, but I never dreamed that she had this kind of strength."
Jenner said that Khloe, 29, has "learned a lot from this situation," after months and months of embarrassing rumors regarding Odom's behavior in regards to infidelity and drug abuse.
Khloe is "truly at peace with the decision she made to divorce Lamar. For the first time in over a year, she is able to sleep thru the night without wondering where her husband is. All of the mistrust and doubt Khloe had about Lamar really took a toll on her. It was no way to live. With Matt, she is just having fun, she is saying he is the light after the storm," the source added.