Kris Jenner: '150 Percent Behind' Khloe Kardashian's Decision To File Divorce, Adds 'I Still Love Lamar' Odom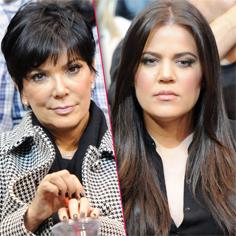 Having gone through painful and public splits herself with Bruce Jenner and Robert Kardashian, Kris Jenner knows what it's like to be on the hot seat through a break-up, and says she's pledging her full support behind daughter Khloe Kardashian throughout her divorce with Lamar Odom.
"I still love Lamar and I love Khloe, and I hate, hate they're going through this," the wise Momager told People of the all-but-unexpected breakup, which Khloe solidified Dec. 13 in filing for divorce. "But if it's something that Khloe feels she needs to do, then I'm 150 percent behind her.
Article continues below advertisement
"We all lean on each other, we have to."
The normally-optimistic leader of pop culture's foremost family declined to put any type of positive spin on the problematic situation, admitting, "What Khloe is going through is definitely challenging, I'm not going to lie.
"It's also a very interesting time for her because it's very cleansing. She's also showed this side of her that I didn't know she had. I always knew Khloe was strong, but I never dreamed that she had this kind of strength."
Article continues below advertisement
Since filing for divorce, Khloe has been linked to injury-prone Dodger slugger Matt Kemp, who Lamar reportedly believes she was seeing for months leading up to their official coup de gras.