Exclusive
Tom Cruise Questioned About Whether He Chose Rumored Love Interest Cameron Diaz Over Spending Time With Suri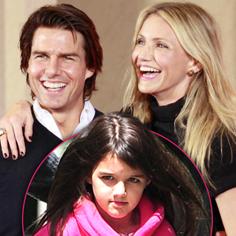 Article continues below advertisement
"You went to birthday parties," McNamara probed Cruise during the often heated videotaped deposition.
He responded, "I don't recall going to..."
"Or a birthday party," McNamara added.
"I don't recall going to a birthday party," the actor replied.
McNamara quizzed: "Cameron Diaz's birthday party?"
"I didn't go to Cameron Diaz's birthday party," insisted Cruise, who starred in the 2010 action comedy "Knight and Day" alongside Diaz.
Article continues below advertisement
McNamara concluded: "Well, actually I think on that particular thing then your lawyers, who were acting as your PR agent at that time, confirmed it, or your PR agent did, that you were with Cameron Diaz for her birthday."
But Cruise, yet again, charged: "I did not go to Cameron Diaz's birthday party."
The megastar, it seems, was splitting hairs.
As Diaz herself admitted in a November interview with U.K. talk show host Graham Norton, "I happened to bump into Penelope Cruz, Javier, Tom and his son in a hotel and joined them for dinner," on the night at center of the attorney's line of questioning.
"At midnight I said, 'I'm 40' so we took pictures and then said 'Goodnight, see you later, blah, blah, blah' and I haven't seen him since. But the next thing I know, apparently I am dating him and it's full on and he is coming after me."
Ironically, it was Life & Style which reported at the time that Cruise and Diaz had a "sexy date" - a claim a rep for the Top Gun star later denied, insisting "he and Cameron are friends only."